We at Advertlets are a fun bunch. There is something to do almost every week!

Last week was the Castrol Football Crazy with Adam C and JD, and just few weeks back, 35 of us were in Mid Valley for a laser tag game.


Oh, you've never heard of Laser Tag?
Well, Laser Tag is a team or individual sport where players attempt to score points by engaging targets, typically with a hand-held infrared-emitting targeting device.
Laser tag is similar to paintball, but MINUS THE PAIN & the mess, as it is reliant on a computerized control system. The computer system provides score tracking as well as enforcing some rules – such as an enforced period when a player is unable to shoot after being hit by another player, or discounting all friendly fire.
The game has been around for while, but I have only heard of it recently during the Advertlets Laser Tag outing. Yea, I admit I'm not that up- to- date! 😉
Anyhow, the short video clip below will explain half of what's it's about to you. Watch it!
It was an exhausting game I tell you! Though the game was staged in a comfortable & air-conditioned environment, we were all still puffing & huffing and some of us soaked through our shirts with sweat!
Excited yet? I don't mind another round. The owner of Galatic Laser Tag is offering a special package for us bloggers, RM45 for 3 games of 10mins each. Who's up for it?? 😉
Operating hours and Price Rates for Galactic Laser: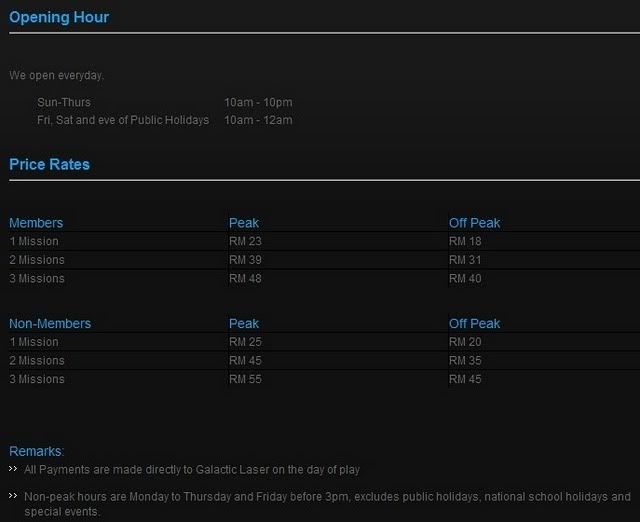 Website: http://www.galacticlaser.com/
General Information: 3rd Floor, North Court, Mid Valley Megamall. Right beside Celebrity Fitness & MegaKidz.
Telephone: 03-2283 2999
Facebook Page: http://www.facebook.com/galactic.laser
Thanks to Advertlets phototog Jason (aka mynjayz) for the superb pics!