I used to play football every Sunday back in Penang.
Damn I missed those days. Early morning at 6am, trooping onto the field behind Adventist hospital in Pulau Tikus.
It's more or less the same gang everytime, and usually my godsis and I are the only females. Not that we were given any privileges, LOL, as the boys in the team goes all out to score against each other. But injuring any of us warrants a red card & a free meal. 😉
Back then I have never heard of futsal. Yes, it was that many years ago. I doubt I can kick a ball straight now.
All memories were revived last Saturday when I had to coordinate the Castrol Football Crazy Futsal Game with Advertlets bloggers, with popular Adam C and JD as our referees.
The both of them are the hosts for the locally produced Castrol Football Crazy (channel 812 on ESPN, every Thursday) which aims to combine football, humour & entertainment into the weekly series.
I'm not a football person, but I'm sure as hell an active sports one. But I wasn't really in the mood to play that morning, especially since it was a work-related event. But I did managed to slot myself in during the warm up session, which warmed up our stomachs more than our limbs, as JD (from the fame of  "JD and Dilly" on Red FM ) is freaking hilarious. 😉


See? I mean, admit it. You are looking at JD right????
Ok, let's get down to some serious futsal.
All the Advertlets bloggers were divided into 3 groups (A/ B/ C) of 5 players each for the tournament.
Team A.
Team B.
Ermmm, dunno what happened to Group C. :scratch: :unsure:
Anyways, catch some the action here:
Referees Adam C & JD gave out plenty of unnecessary red & yellow cards, me thinks it's all for the fun of it! Some of reasons included:
Azrin (Group B) : Azrin got a yellow card for calling Adam C a "referee kayu" . Wahahaha!! 😉
Ewin (Group A) : Ewin got a RED card for not scoring a simple goal.
Bryan (Group C) : Bryan got a RED card for kicking the ball at Michelle's face.
Jason (Group A) : Jason saved the ball from an attempt from group B and they got awarded a penalty.
So which team won the game? Hahah..again – watch it on ESPN! Channel 812 8pm. 3rd of February 2011! Yup, that's TOMORROW!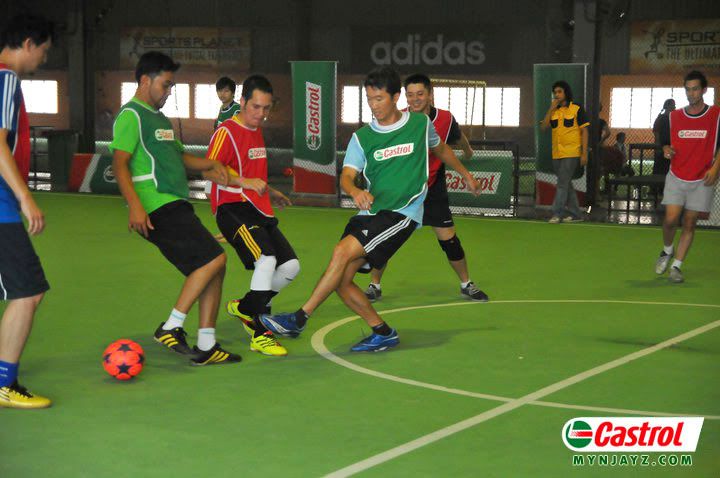 The day doesn't ends there. We got some penalty shootouts, and a juggling competition.
Azrin, one of the bloggers juggling the ball.
But no one can beat this guy! He juggled an impressive score of 120!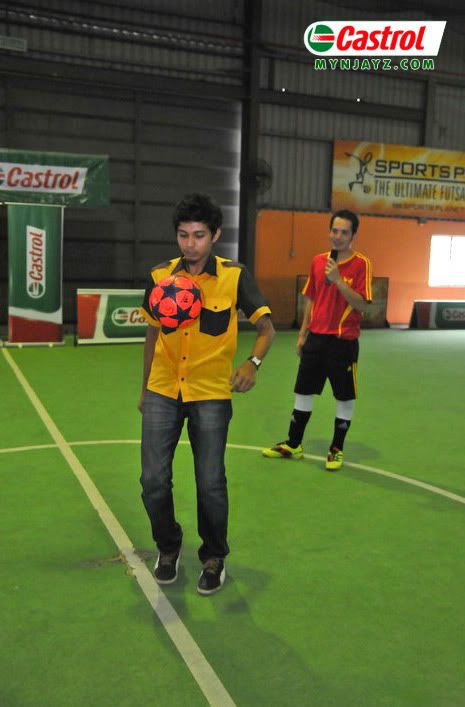 Oh, there were photos of Adam C & JD for us to err.. do some graffiti work/amuse ourselves between games. Ahem..  😉
Yay! Finally someone remembered me! So sweet of Elvina to take a pic with me.
Here she is again. The next Castrol Ambassador perhaps? 😉
For more of Castrol Football Crazy, check out the Castrol Football Crazy FB page.  Click "LIKE" & keep yourself entertained with the frequently updated videos and the antics of, well, who else but Adam C & JD!
** Personally, I can't wait to watch Castrol Football Crazy, tomorrow 3rd Feb for this particular episode. As a staff of Advertlets, I'm going to be proud to see the Advertlets familia on satellite TV! 😉
Watch it with me,  Thursday, 3rd of Feb, 8pm(HKT), on ESPN, Channel 812.
A superb Saturday (though I didn't get to play *wails *), thanks to Advertlets, ESPN Star Sports and Castrol!
Oh, there was a tweet wall too, with over 130 tweets in those few hours!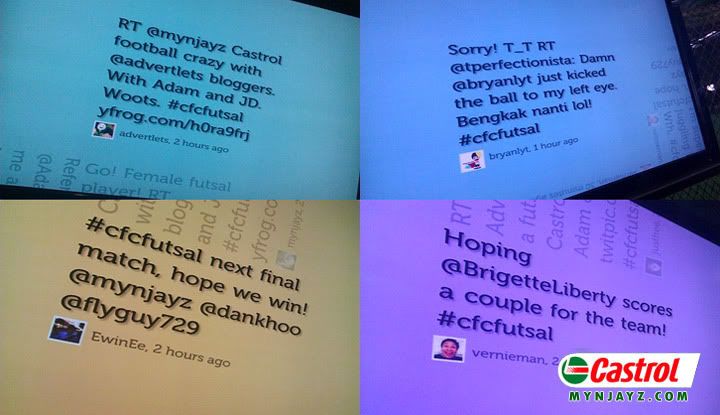 Also, more pictures here – Official pics from Advertlets FB page.