Forget buttermilk crabs.
Ditch the common chilli crab.
Head over instead to Red Gold Steamboat Restaurant @ Batu 11 Cheras for this heart-stopping lard-infused claypot crab, served swimming in a heady, sweet chinese wine broth and lavishly topped with chunky, crunchy pork croutons.
Red Gold Steamboat is known more for well, steamboat, but this is THE DISH you have to try if you are here for 煮炒摊 "tze char".
I'm not a fan of crabs but this was exceptional. The crustaceans were fresh, meaty and sweet. If I remembered correctly, it was only RM80 (or RM90) per kg. I recommend dipping the crabmeat back into the stock (after you extract them from the shells) before eating as that gives it time to soak up the flavourful broth.
Another tip – the crunchy pork lard cracklings plus the heady wine broth is heaven with hot rice!
We ordered other recommended dishes such as the homemade Sai To Fishcakes and the Lala Beehoon as well. Personally I find the fishcakes way salty and while the fried meehoon was ok, the clams were rubbery beyond redemption. It was a sad waste of fresh clams.
However the pork belly was amazing and another must-order.
Succulent layers of fat alternating with juicy lean meat, each chunk was swine-bliss plus the marinate was just right.
The accompanying sweet dip was one of the best meat dip I've ever come across – sweet, spicy and appetizingly tangy at the same time.
Now I wonder if I can get the sauce recipe?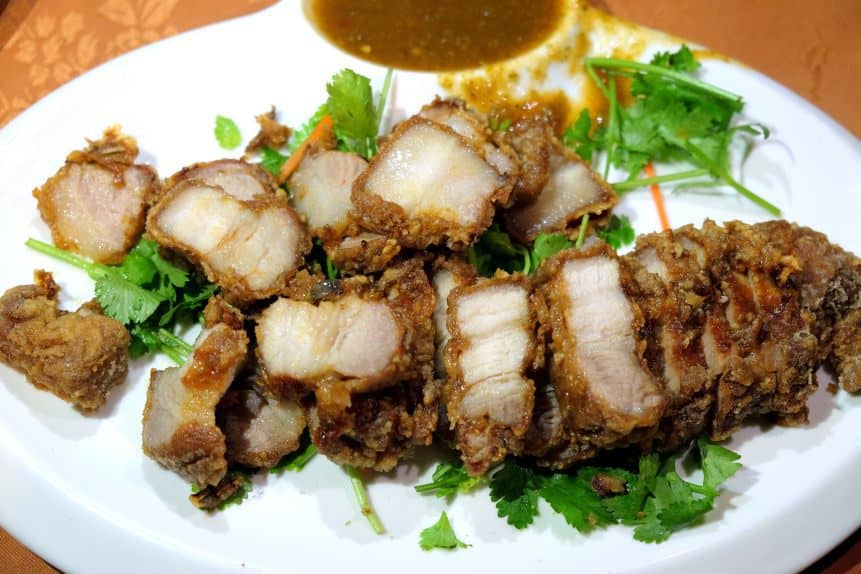 Overall the 4 of us had a scrumptious meal and we agreed that the prices were fair for the quality and portion. Sure, it is a bit far from the usual PJ and KL areas but hey, both the pork belly and the claypot crab are well worth the effort!
Operational for about 13 years now, Red Gold Steamboat Restaurant is also a fresh seafood distributor. Thus their supply at the outlet is incredibly fresh. Seafood are taken out alive from the water tank upon receiving order from patrons. In addition to steamboat and tze char/dai chou Red Gold Steamboat Restaurant produces their own fishball noodle and homemade yong tau foo. These are supplied to other restaurants. However if you wish to enjoy the yong tau food, the restaurant is open for breakfast and lunch too.
---
MENU:
---
Red Gold Steamboat Restaurant @ Batu 11 Cheras
Location: Jalan Kasturi 5, Cheras, 43200 Cheras, Selangor, Malaysia
Contact: +603 9074 2785
Opens for DINNER: 4.30pm until 11.30pm daily
Lunch: 11:30 am onwards.
*****