I'm a dessert monster – pastries, baked goods, sweet soups, shaved ice… you name it, I'm probably a fan.
But due to advancing age (ahem), I have been actively seeking for Chinese tong sui lately.
Well, really, jokes aside about age, I grew up in Penang and I've always been particularly fond of traditional style sweet dessert soups.
Growing up I had easy access to tong sui (chinese sweet desserts) because an uncle (back then still young) could be relied on operating his tong sui bike-cart 6 days a week, starting sharp daily at 11 am, right at the alley behind Swee Kong Kopitiam just opposite from Pulau Tikus police station.
To enjoy a hot, rich and creamy bowl of chinese tong sui all I had to do was to seek him out and paying a mere RM1.00+ per bowl/pack.
Today most chinese tong sui in KL seems to be a lost cause.
It is challenging to find a competently prepared one, for most outlets serve thin, bland versions of them.
So when YS (Yungsen) told me about Kedai Makanan Kuai Kuai Lai, famous for its tong sui and other local pastries and noodle dishes, I instantly marked it as "must-visit".
In fact it was the ONLY outlet that I repetitively reminded YS to bring me!
BELOW: Kedai Makanan Kuai Kuai Lai, so hidden, you can't even see the signage!
I was stuffed from lunch but stubbornly made space for a bowl of bubur cha cha, the Sitiawan popular deep-fried prawn fritters and on YS's insistence, try the Hock Chew lor mee.
The pancake-like fritter was tasty and better eaten dipped in the Kampung Koh (what else) chilli sauce. The bubur cha cha was homely but wasn't as rich as I preferred. Sad really.
On my next trip I must try the other desserts.
And yes, not forgetting the unique Hock Chew Lor Mee, a slightly less starchy version from the Penang version that I grew up with, but with young bamboo shoots which are pickled (I think).
Frankly I avoid such bamboo shoots due to its lingering, offensive 'fermented' smell.
It wasn't super bad for this bowl, but I reckon that one bowl of this is enough for me. I've tasted Hock Chew Lor Mee and I'm done with it.
There are many types of kuih, dozens of fried local pastries, fried noodles, pohpiah (deep-fried spring rolls) in addition to the massive pots of tong sui displayed outside. Heck, there's even taufufa!
Seriously there was so much to try and I can't wait to be back to stuff myself silly. This time I'll make it a main meal, instead of snack time. And order one each of every kuih and dish they have here.
Yup, that's the plan! 😀
PS: I was told they have this "hock chew'  glutinous rice with peanuts, red dates and melon sugar. I've never tasted this and I hope they have it on my next visit.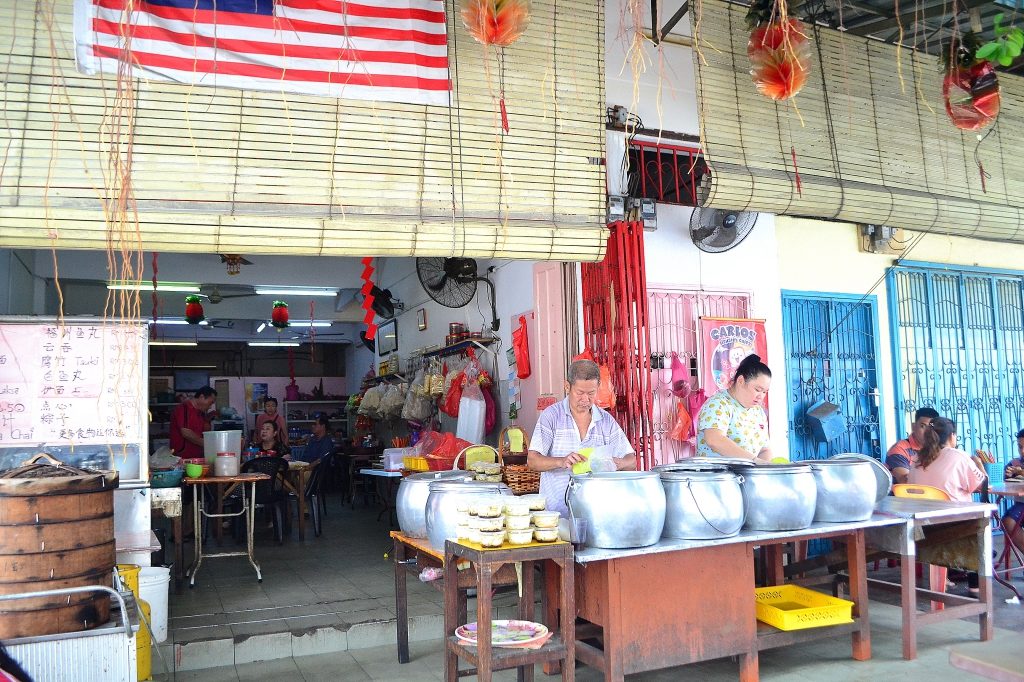 Kedai Makanan Kuai Kuai Lai
47-65, Jalan 5, Kampung Koh,
32000 Sitiawan, Perak.
Hours: Daily from 8 am until sold out/to 6:30pm.
WAZE:"Kuai Kuai Lai"
---
WHERE IS AYER TAWAR/SITIAWAN?
---
If you do not know where Ayer Tawar is, here's a map – it is about 3 hours drive from KL.