This year, Tony Roma's will be ushering in Halloween with vampire kisses, witches brews, PUMPKINS (of course!) and Halloween special guests such as Mr. Ghoul & Ms. Witch.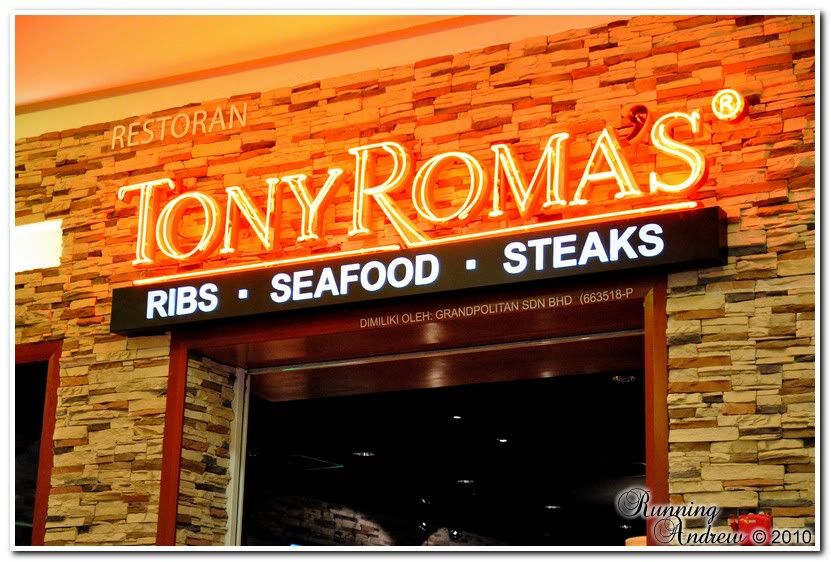 For 3 days only..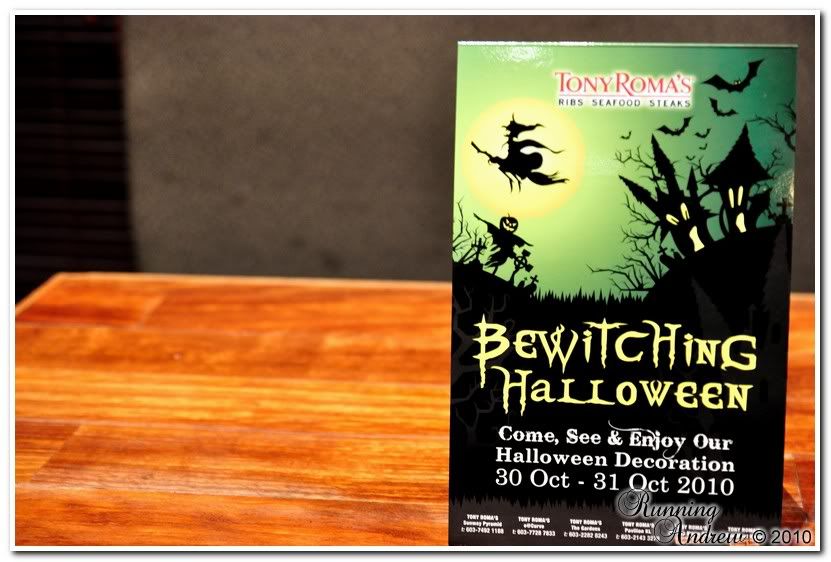 …Tony Roma's  luscious pumpkin soup is specially brewed for its patrons. A must-order for pumpkin lovers; this sweet, healthy tasting brew with a slight granular consistency guarantees to "bewitch" your heart.

Pumpkin + dessert
= 2 of my favourite combos 😉 . I was most excited with Tony's
Howlin' Pumpkin Pie
than anything else.
..so much so that…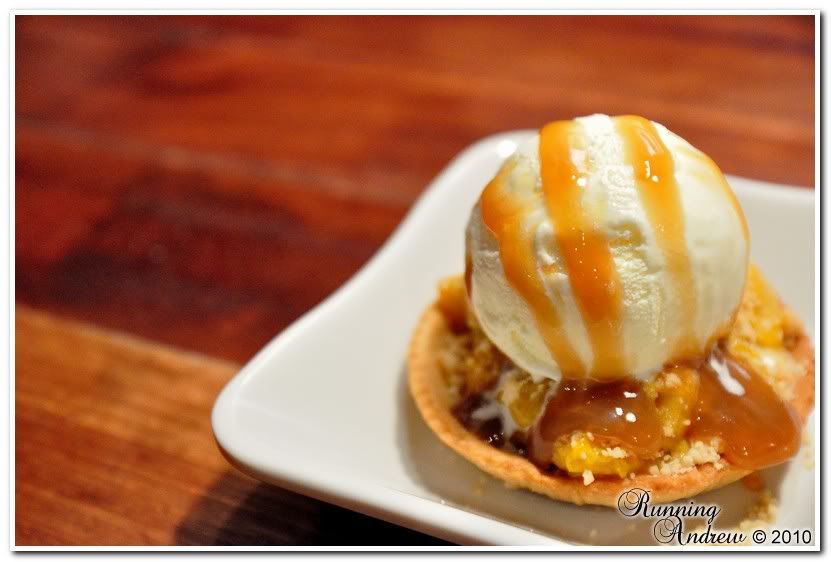 ……..the utensils didn't arrive fast enough for me! I watched the ice cream melt & panicked. Hence I decided to put my fangs to good use. All in the spirit of Halloween. LOL.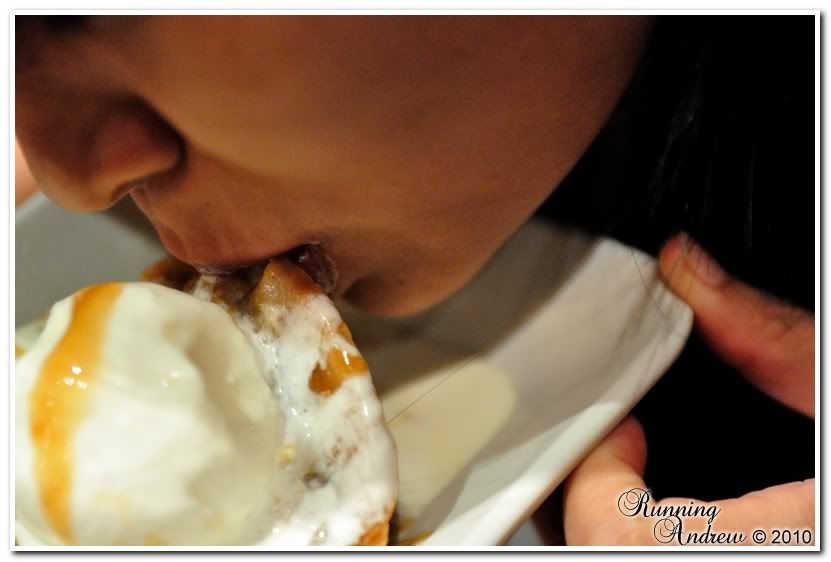 The base is a tart shell and the filling was cubes of pumpkin baked with vanilla essence, cinnamon and ginger powder. A scoop of creamy vanilla ice cream dressed with caramel sauce topped the pie. Truth to be told, I expected more out of my pumpkin pie, and this didn't quite did it for me. But hey, I'm a very fussy dessert lover & it wasn't bad for its price.
Fancy colourful Halloween drinks accompanied our meal that night. The devilish sounding Vampire Kiss, true to its name, delivered sweet kisses with tinge of lemon, strawberry and sprite, leaving us with fizzy feeling in our stomachs.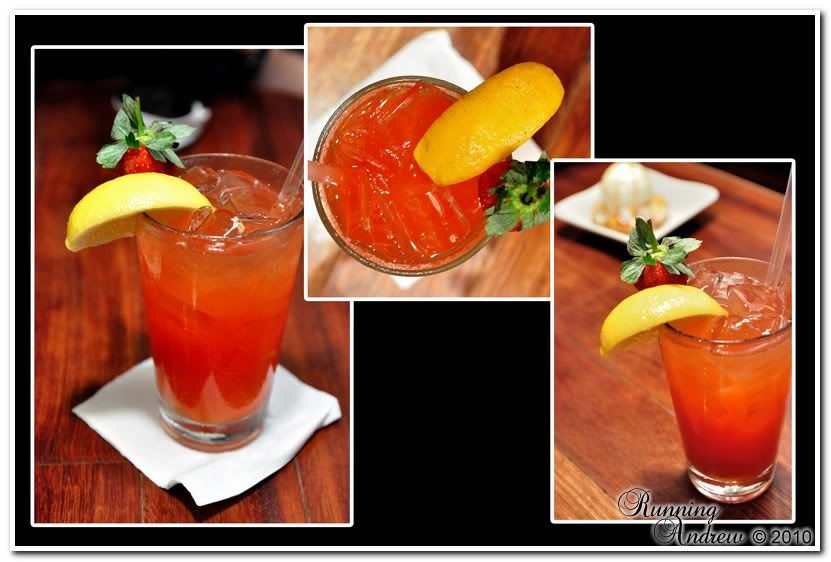 The Witches Brew is a cocktail and contains Skyy Vodka, Captain Morgan Spiced Rum, pineapple, cranberry juice and 'worms'. I don't do alcohol but the consensus around the table was "it's a pretty good cocktail"!.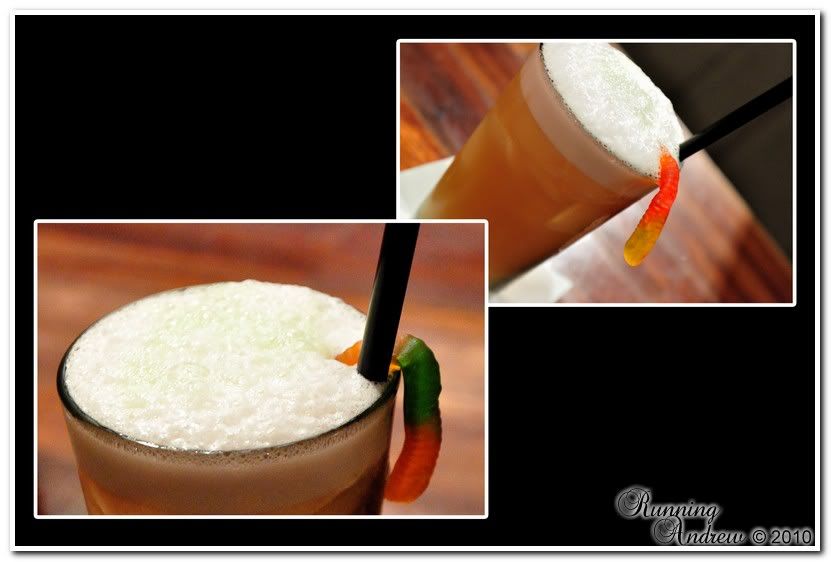 After sampling the
Halloween
specials, we were served some real food starting with the
Roma's Sampler
which consists of an onion loaf, potato skin and boneless buffalo bites.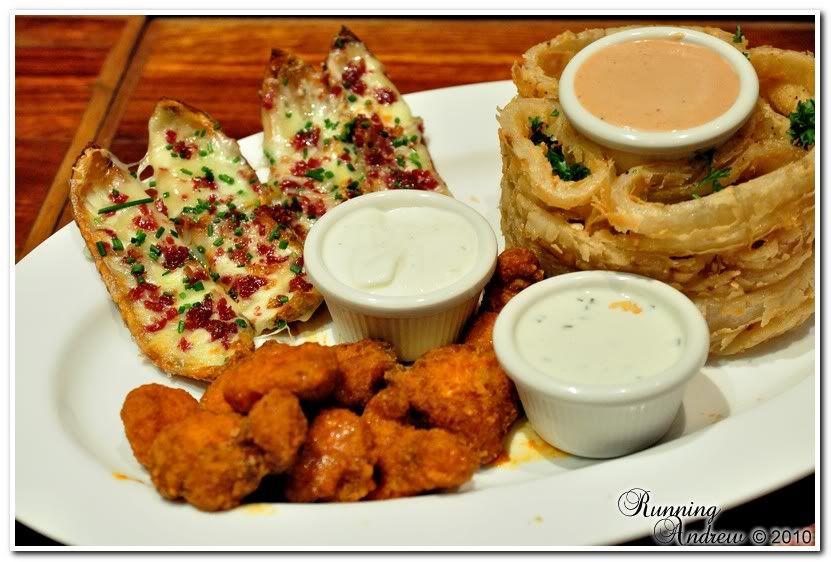 My favourite is the
Onion Loaf!
Greasy yes, but marvellously sweet with crispy thin batter.
The rest of the platter was the Boneless Buffalo Bites & the Potato Skin, the former of which was sourish & deep fried coated in batter & the latter sinful with diced beef bacon & fresh chives.
And expectedly, a dinner at Tony's is a reason to showcase Tony's legendary ribs. From the very start of the dinner I proclaimed that I have never dined at Tony Romas' Malaysia simply cos it is halal (no pork!). And it was hard to hit the similar level of gratification that I have felt after my pork ribs platter in Siam Paragon, Bangkok.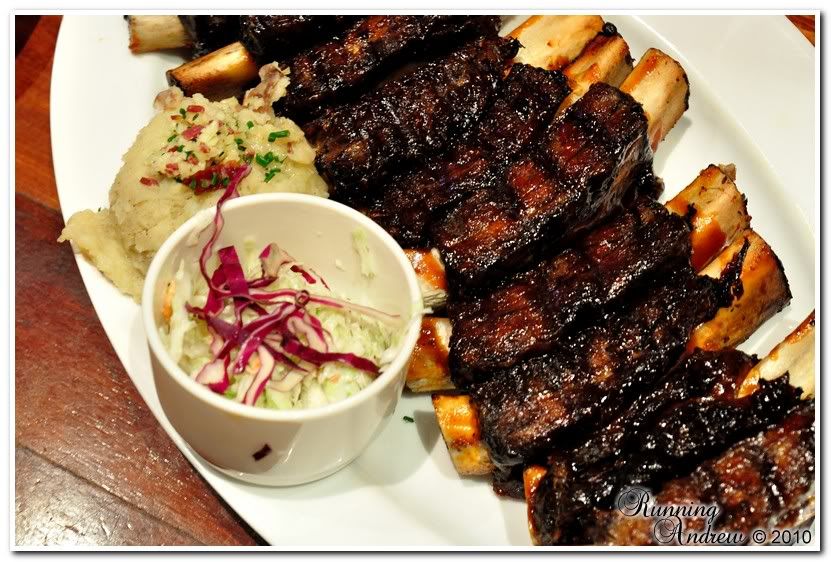 Bountiful Beef Ribs.
The ribs were done right, with the ubiquitous smoky charred outerior & fork tender meat. Good yes, but it is not pork. Hehe…
Below: The 4 flavours of Tony Romas' signature sauces – Smoky, Original, Sweet & Spicy. Completely optional IMHO, as the marinated ribs were flavourful enough on it's own.
The mash was something else, and being a carb-lover, I couldn't resist this. Earthy soft spuds with a slightly coarsely texture that is a testament to the fact that it is made fresh; exactly how a mash should be.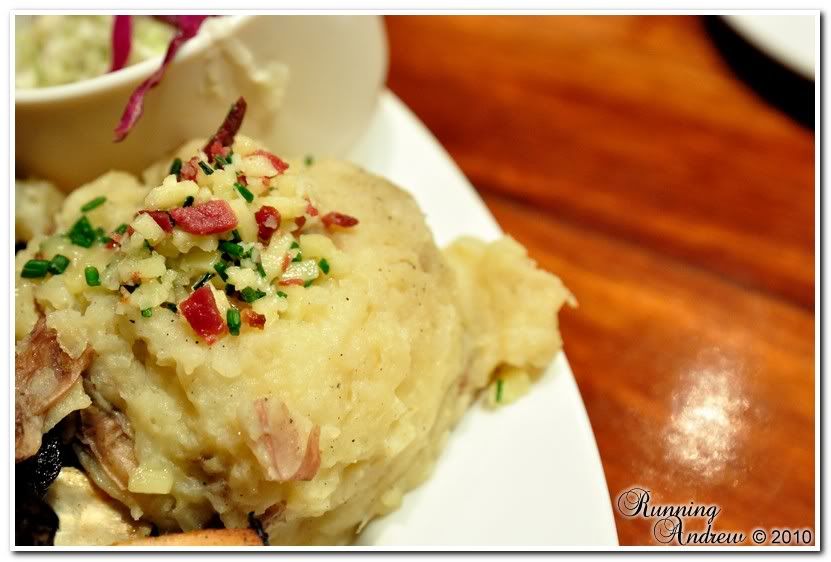 I must have enjoyed the sides more than the ribs since I'm writing more about them! LOL. The coleslaw was good as well, since I prefer my coleslaw tangy and lightly dressed. No mayo overload please.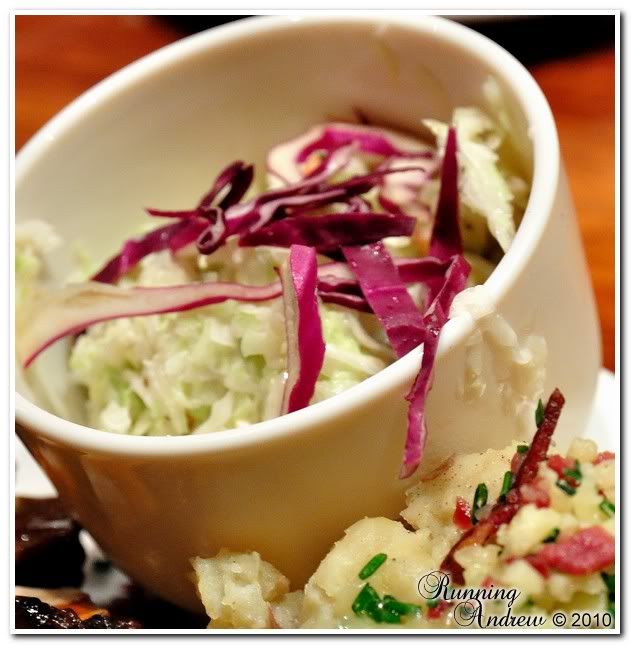 BBQ Chicken.
Half a chicken marinated in Tony's BBQ sauce. Succulent meat, with the rustic fries & coleslaw.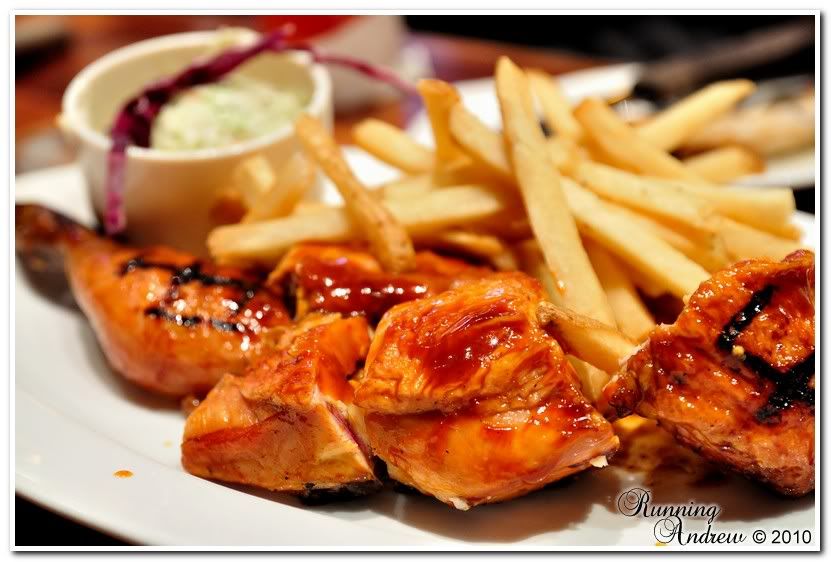 This was surprisingly my favourite dish of the night. Instead of the ribs, I was actually ate most of the
Grilled Pacific Cod  with Tomato Pesto Salad
. The cod was so so fresh and the flaky meat sweet, all even better with the charred crisp skin. Another remarkable side dish here is the soft rice that was both buttery & aromatic. Oh dear, another carbo-licious side! Well, to lessen the guilt, the dish came with plenty of grilled vegetables that was lightly flavoured with butter.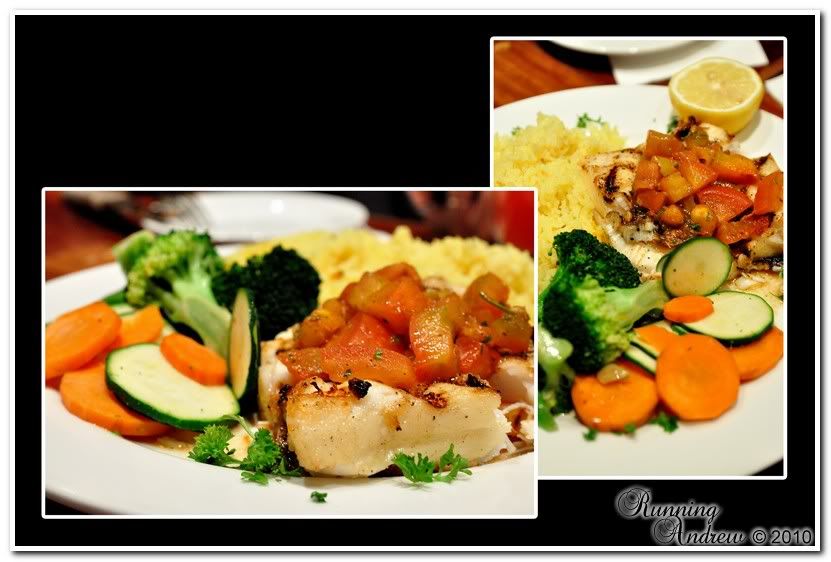 The Halloween promotion starts on the
29th of October & valid till 31st of October 2010
. Yup, luscious pumpkin soup & sinful ice cream-  topped
Howlin' Pumpkin Pie
as well as the cocktails
available for 3 days only.
Score yourself the
Howlin' Pumpkin Pie
for
free
if you dress up your halloween costume when you dine at Tony Roma's on the 31st of October.
What? Too shy to dress up?  Ok la, order any 2 main entrees and you'll receive the pie for free too. This Halloween promotion is available at ALL Tony Roma's outlets as below:
Sunway Pyramid: 03 – 74921188
[email protected]: 03 – 77287833
Pavillion KL: 03 – 21433278
The Gardens: 03 – 22828243
And thanks to Andrew for the ultra superb pics! 😉