I've covered a bit on traveling to Pai from KL, Malaysia (HERE), the weather and what are some of the attractions along the journey from Chiangmai (HERE).
So now that you're in Pai, what could you do next?
Well, Pai district is a predominantly tourism-oriented town. Everything you know about Thailand; warm hospitality, cheap, delicious food and great shopping applies here as well.
Pai is just 200% more laid-back and its attractions more nature-oriented.
Still, that doesn't mean the cheap massages and potential shopping thrills disappeared.
1. SHOPPING IN PAI
The most common item sold here is probably postcards ( you will see them everywhere!) and t-shirts that says "Pai".
Leveraging on the tourism wave there are many shops around Pai.
However an all-one-venue to shop would be the walking street (Rungsiyanon Road).
We were there late evening and grabbed dinner at one of the restaurants (Baan Pai) before taking a long, slow stroll down this busy, vibrant street.
Dinner was delicious and besides the usual Thai salads and tom yam, I particularly liked the baked chicken, flavoulful til the bone and was served with a really kick-ass spicy sauce at the side.
Seafood is a predominant choice and the cuisine is Northern Thai style.
Like most night market in the world, Pai night market offers souvenirs, handmade and unique handicrafts, clothes, soaps, candles, jewellery, leather bags and paintings.
The vibe is very casual and the pace, serenely laid-back. Unlike markets in bigger towns which are likely to be jam-packed with aggressive vendors and buyers, you could actually browse the shops at leisure here.
Majority of the vendors aren't pushy and they will allow you to examine their goods at your will.
Prices are already low to begin with, and if you do bargain, be kind and fair.
BELOW:
Ample space to walk without having to elbow anyone aside!
Pai, Pai, Pai.
Unless you're really discipline (or broke) you will most definitely walk away with something with the word "Pai" printed on it.
Postcards, stationeries and artwork. Pai is a very artsy and craft oriented town. The shops, restaurants and cafes ooze character and originality. It is rare to find any that are plain or monochrome.
And yes, that red letter box is everywhere!
Some of these shops allow patrons to chill, order a drink and mingle at their space.
It is a great way to make friends; over meals and a beer or two.
Handwoven scarves are popular and there are so many designs to choose from. I would hazard a rough count of almost 20 different stalls selling pashminas, scarves and woven cloth.
Prices start from RM10 (100 baht) and these make practical, affordable souvenirs.
You will also find authentic street food including halal dishes.
It is a long street and at several points, catchy Thai tunes are sung by the local performers.
2. Where to stay: 
There are large cosy guesthouses nearby as well.
A quick research around gave us the figures of approximately RM30 for dorm sharing beds and RM60 – RM200 for a private room. 
The mild weather encourages outdoor activities. In the evenings, art cafés and bars prove to be popular hang-out joints.
3. Night Life in Pai
Night life in Pai isn't non-existent as one may think. Yes it may be a rural side of Thailand and its main allure the nature but the arrival of tourists almost meant Pai has stepped up its game.
It is not the raucous type you see in Bangkok but a wonderfully mellow, casual vibe kind that part of the charm of Pai.
Stroll the streets and choose a bar that suits you. Most play indie house, blues, pop or the blues.
As you would probably know by now, Thai beers are cheap. Non-alcoholic mocktails and juices are available too.
Me: Happy with my purchases – a hat (yes the one I'm wearing!) and some unique handmade jewellery!
Gosh I do love the walking street here in Pai!
Nice? 🙂
Pai Walking Street/Night Market:
Location: 1095, Wiang Tai, Pai, Mae Hong Son 58130, Thailand
4.MASSAGE in Pai
We went to this one; Masterly Massage which is right at the end of the night walking street. It is divided into 2 sections; air-conditioned or otherwise.
The massage seats looks well-maintained and there were masseurs available immediately; unlike the other outlets where we were told to wait for 30mins to an hour.
Yes, massages are popular everywhere in Thailand.
This overall joint is cosier as well. The masseur I got was friendly and obliging, but I can't commend her on her skils.
I like deep point tissue massages with emphasis on pressure points. My feet hurts, my ankles and my knees too no thanks to all the workouts that I do regularly.
I had hoped she could relieve me of those pains (even a little would be great), but the massage I got was more of a relaxation massage where she just kneaded and rubbed lightly over my feet.
5. ACCOMMODATION Review: Belle Villa Resort, Pai
I had covered a bit of that above for hostels & backpackers but if you have a bit of budget to splurge and is looking for a mid-high accommodation with privacy perhaps Belle Villa might be worth considering.
The reviews on TripAdvisor are "very good" which is accurate enough.
It is not "superb", but I liked the country-like style  feel of the place.
Belle Villa Resort Pai is a 4-stars boutique hotel which is about 25 minutes walk from the night market.
Baki Zainal & I walked back after our massage (roads are clean and the area is safe) so yes, we can assure you that it is about 25 minutes. 🙂
Our accommodations were individual cottages on stilts with nice balconies and great views over the fields to the valley.
Serene, absolutely quiet save for the occasional insect rhythms and private, it was like the perfect yoga/meditation/jungle retreat venue.
Waking up to this a view is something I could get used to!
I was anxious about mosquitoes at first but of course the management would have thought of all that.
The windows and door had screens installed to keep the insects and other possible intruders out while still allowing the ventilation of nature in.
The rooms are equipped with a minibar, complimentary water, basic bathroom amenities, safe, bath robes, slippers, fridge, TV, DVD player and 2 phones, one in the bedroom and another in the bathroom.
There is a reclining area next to the big window overlooking outside which is really nice and perfect for that nap or to snuggle up with a novel.
It is clear that the cottage is a bit worn (the carpets & furnishings) but it is cosy and comfortable. The wooden fittings found throughout the room's enclosure adds to the rustic feel.
Back to nature or not, I was most happy that there were WIFI and about 3-4 electrical points to charge my essentials.
The interior of the bathroom can be a bit "eccentric" but not in a bad way. It is the "disjointed" from the rest of the cottage.
BELOW: Walkway from room to the bathroom where the wardrobe and minibar section is.
See what I meant?
You're supposed to shower within that yellow round and the surrounding area is wooden planks. Water pressure can be a bit slow at times but you will be clean eventually, I promise.
But I do love how spacious and quaint it is.
The resort has a nice lobby and there are two pools – one big at the new building where the modern bungalows are (still under the same resort).
The large one is good for swimming while the other smaller one has a beautiful landscape surrounding it.
BELOW: The lobby.
The smaller pool at twilight.
During daylight you get views like this.
Breakfast was small but covers pretty much the basics of eggs, toast, fried rice/noodles, juices and fruits.
The breakfast area (small cafe) sits on a nice terrace and allows you to inhale the cool air while savouring the countryside view overhung with a mysterious mist.
Breakfast isn't anything to shout about but since the street food at Pai is cheap and good I would suggest that instead.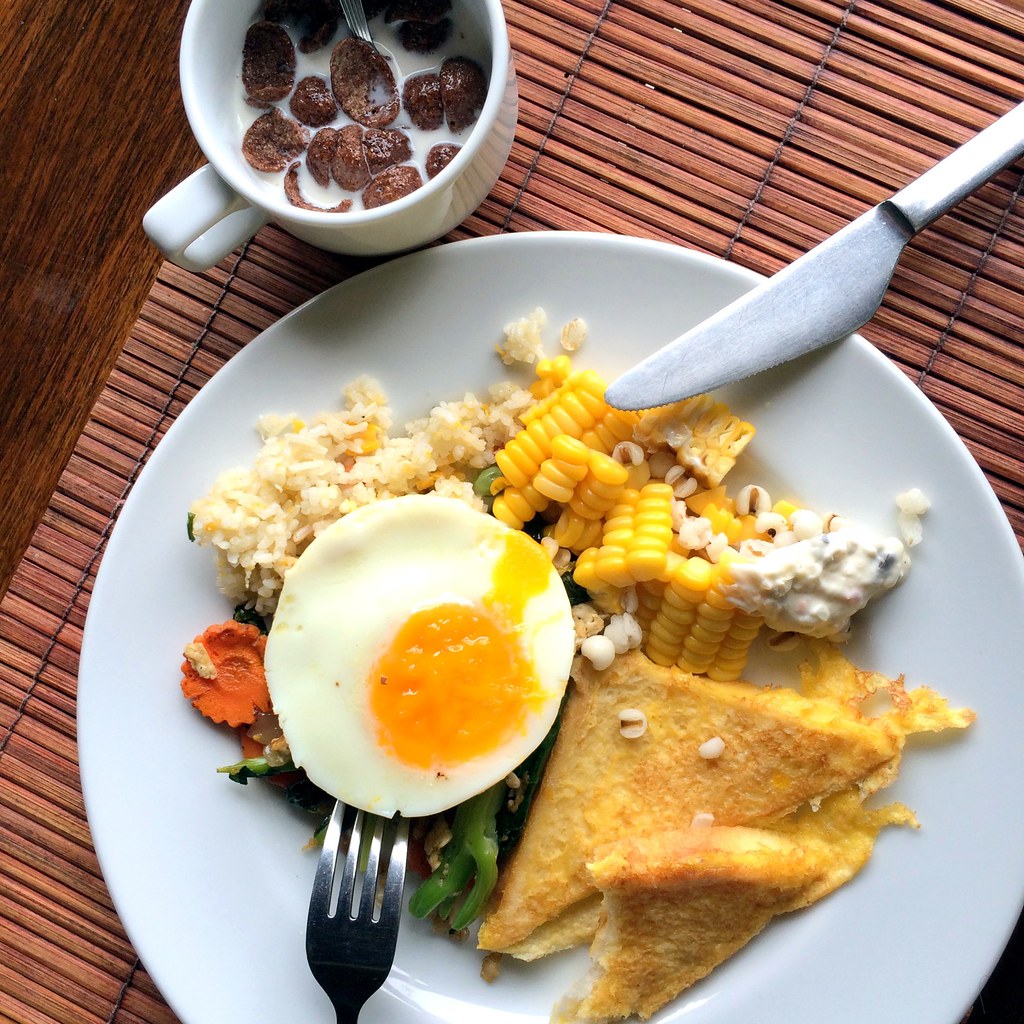 We were hosted in private cottages but the newer development are the modern bungalows. It is a stark difference from the wooden cottages as it is a contemporary bungalow built from cement.
**Hotel provides shuttle to town but do enquire at the lobby.
Address: 113 Moo 6, HuayPoo-WiangNua Rd | Tambol WiangTai, Pai 58130, Thailand
Region: Thailand > Mae Hong Son Province > Pai
Price range (per night): RM179 – 480
Hotel Class: 4 star — Belle Villa Resort Pai 4*
Number of rooms: 44
7. SIGHT – SEEING and more shopping at Shandicun Chinese Village.
Shandichun Chinese Village is one of the 3 main Chinese villages situated in northern Thailand.
This village is populated by Chinese mainly from the Yunnan Region in southeast China. They were loyal to Chiang Kai-shek and the Nationalist Army and they came into Thailand when Mao Tse-tung pushed the Nationalist Chinese Army off continental China onto Taiwan.
So they escaped south into Burma and Thailand and formed fairly isolated villages that retain their culture, language and schools, one of which is this Shandichun village.
This picturesque village feels almost like a movie set up. Yes, it has an almost unreal vibe to it.
The houses are built out of mud and straw but they looked solid and so well-maintained that you wonder if anyone actually live in them.
Some of these houses are made into shops, and the villagers seem used to having people walking around with their cameras and poking their heads into their homes.
The fields are neatly manicured, there are no signs of rubbish anywhere and a pond with small bridge is found right in the middle of the landscape.
One of the main highlight here is to sit on the wooden mechanism that works like a Ferris wheel.
Another is to experience horseback riding or well, just shop.
The honey sold here is amazing, and we were shown the bee hives high in the trees right above our heads.
There are plenty of handcrafted items, souvenirs, nuts, dried fruits, tea and wines.
The vendors speaks little English so it is best to visit here with a local guide.
Spot the bee hives! 🙂
This is a great place to spend an afternoon sightseeing. The environment is very tranquil, there is little activity and everyone mind their own business so you can certainly enjoy a relaxed afternoon in peace.
And please, do buy the dried fruits, honey and nuts. The prices are cheap and the quality is pretty good.
Shandichun Chinese Village is located just 4.5km from Pai with a population about 2,000. I was told that it is possible to play dress up in traditional Chinese costume here though I didn't witness such activities when I was there or else I would have jumped at the opportunity!

Shandicun Chinese Village
Address: 1095, Wiang Tai, Pai, Mae Hong Son 58130, Thailand
8. Cafe hopping in Pai
Pai is home to a charming and colourful café culture.
Due to its proximity to the natural landscape of Mae Hong Son Province, these cafes usually boast of soothing views over hills and valleys.
Lest you waved all this off as "oh, like KL laa.. all cafes wood, steel, some old junks as decor.." , I'll like to assure you that SOME of these cafes has imaginative themes that jump out at you, and are very original in both designs and the intended vibe.
We went past quite a few, and one of the more popular cafes here is Coffee In Love, owning its fame to a Thai love movie where a small part of the filming took place.
It has grew since to become a full-blown tourist location and as expected, there seem to be a crowd here all the time.
We visited twice, and enjoyed the relaxed atmosphere plus the opportunity to commune with nature.
Not much can be said for the beverages or the cakes (though 1 or 2 was decent enough) but it is really for the atmosphere more than anything else.
Coffee in Love
Address: 1095, Wiang Tai, Pai, Mae Hong Son 58130, Thailand
**This trip is made possible thanks to Tourism Authority of Thailand (Malaysia).