**Guest post by Kenneth Sow who attended the launch on my behalf as I was held up  in another engagement
Honda 9th Generation Civic launched – how does it stack up against the 8th Gen?
By now you must have read ton of articles written about the 9th Gen Civic launch. Similarly, you might have also read a load of protest on its exterior design, boring interior design, hard plastics, old technology, lousy pricing, blah blah blah. If you've not seen the car, you must be wondering …. is it that bad?
The 8th generation Civic, introduced in 2006 was a huge success for Honda. With its futuristic design, both inside and out, revolutionized how automakers think about how a car should look like and even till this date, the 8th generation is still a looker and (to some at least) a symbol of success of a young, upcoming executive. The 8th Gen sold 49,000 units since its launch, making it one of the top selling C segment in Malaysia.
Those are really big shoes the 9th generation Civic needs to fit. Doesn't help that the Koreans are making huge progress in almost all aspects of their vehicles and the continental brands are finding more means to further reduce their vehicle's retail prices while offering everything short of a wife/husband to make your life all good and perfect when you buy their cars.
So how's the new Civic  against the rest ….. and more importantly, how does it fare against its own predecessor, the most successful Civic ever launched to date? Let's find out.
Launched 2 days ago on 12 July 2012, the Civic comes with 3 engine choices; the 1.8litre, 2.0 litre and 1.5 litre hybrid. The 2.0 litre has a sub variant which comes with satellite navigation. The event was held at the Malaysian Agro Exposition Park Serdang (MAEPS) and was attended by members of the media, business partners and generally, friends of Honda. Excellent food from Delicious and the entire setting was like a movie theater …. which was the theme of the Civic where YOU are the star.
To comment about the event itself, it was the first time I attended one held by Honda and I'd say they've done a fantastic job:-
Finger foods going all round to reward early arriving guests and ensure they don't starve
Large gathering area so that people can congregate comfortably
Ample seats and tables for attendees.
Wide open stage for the media to find their spot comfortably. My previous car launch events had the speakers talking from a narrow platform and media had to jostle just to get a spot …. until some don't even bother to try.
Local food to cater to local taste. As the crowd consists of a wide range of people with different cultural background, having local food instead of western makes perfect sense.
Timing was reasonably punctual. This is Malaysia … a 15 minute delay in kicking off the actual event is considered early!
Of course, the customary models aplenty
Design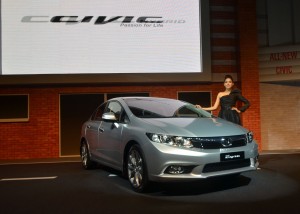 Ok, let's face it. It does look like a City. And it's not going to win any design awards. As a matter of fact, since its launch, it's design has been subjected to quite a number of critical reviews worldwide. Partly is also due to the 8th Generation's fault … a hole Honda dug itself in.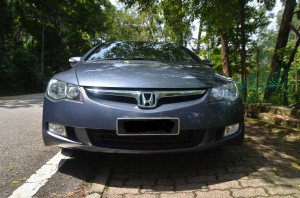 The 8th Generation was such an evolution in design for both inside and outside, it literally blew everyone's mind off. The aggressive design cue inspires a dynamic emotion that makes owners the envy of others. So now, we get this:-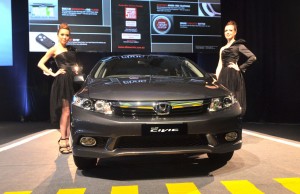 Conventional is the word if you want to be polite about the new design. I've heard worse and you can probably find more flowery descriptions in public automotive forums and car sites.
Measuring 4,525mm in length, 1,755mm in width and 1,430mm in height, it has actually shrunk a little from the 8th generation (4,540mm long, 1,755mm wide, and 1,435mm height). Wheelbase is also similarly shrunk from a one-time class leading 2,700mm to 2,670mm but honestly, the rear legroom still feels just as spacious as before, thanks to a more effective space-utilization cabin design. Here are the changes in the cabin layout compared to the 8th Gen:-
Shoulder room improved by 75mm
Couple distance improved by 10mm
Cabin length to the back of the rear seats improved by 10mm
Rear legroom improved by 40mm
The floor space of the cabin is now 5mm lower for the front and 15mm lower for the rear, meaning more ambiance space inside.
The front seats are positioned 5mm further in front
Seriously, I don't know how Honda does it but they did it good.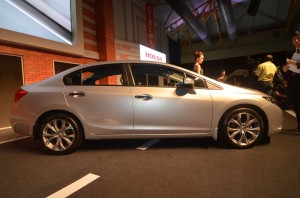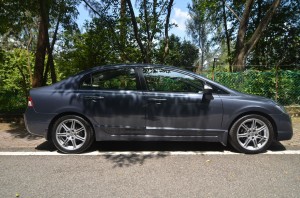 Yeah, you've heard of others condemning the potential buyers for paying more for less of a car but in this respect, I disagree. Unlike the new Toyota Camry where indeed you are paying more for lesser feature than before, the 9th generation Civic does not skimp on its specifications. Looking at the side profile above, you can see that the front windscreen is not as rakish as the 8th Gen and appear taller (hence like a City). But really, if you see the car in the flesh, the width and relatively low height does make the car look sleek. It won't be like an 8th Gen's level of agro but if you look at it as it is, it's not that bad.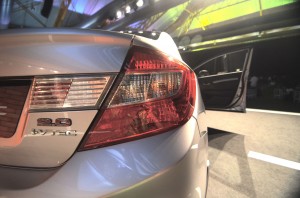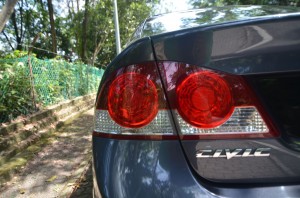 A number of people say the 9th Gen has Proton Preve-like rear tail lights. I fail to see the resemblance, really. What I am reminded of though is the earlier City. A tad boring now if you ask me …. it's like the arse of the Civic has lost its character. I'd probably be tempted to chase after the unique rounded tail lamps of the pre-FL 8th Gen but with the 9th ….. meh, I'll see you at the next traffic lights.
Of course, adding some Mugen bits helps in increasing its appeal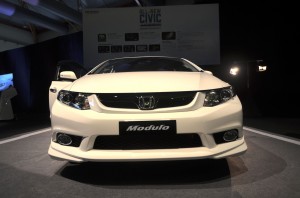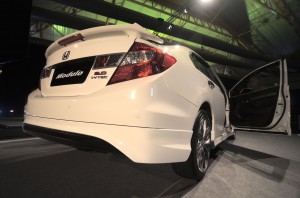 As for wheels, the 1.8S comes with 205/55R 16 while the 2.0s are 215/45 R17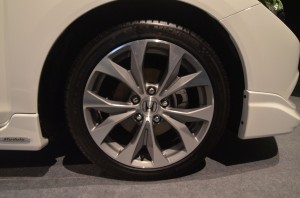 The Hybrid on the other hand gets sleek 195/65 R15 wheels which are lightweight and specially designed to be aerodynamically as slippery as a baby's bum.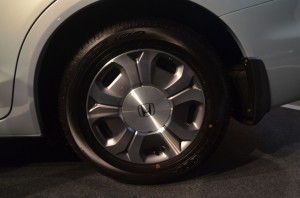 Another useful feature I must mention that some might find it trivial but I appreciate it a lot is that Honda has redesigned the A pillar that this has significantly reduced blind spot in that area.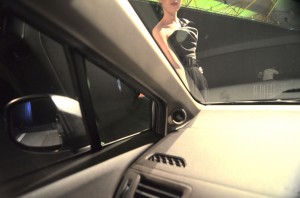 The width of the A pillar in that area has been reduced by as much as 9% and this has resulted in a 36% improvement in visibility. A small matter but one that Honda chose to pay attention to. Excellent!
Performance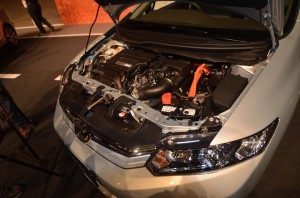 Powering the 1.8 is the 1.8litre SOHC i-VTEC engine dishing out 141PS @ 6,500rpm and 174Nm @ 4,300rpm whereas you'll find a 2.0litre SOHC i-VTEC engine in the 2.0litre variant, producing 155PS @ 6,500rpm and 190Nm @ 4,300rpm.
The 1.8litre engine output is almost identical to the 8th Gen where it used to give you 140hp @ 6,300rpm and the same torque level.
The most radical change is found in the 2.0 litre … instead of Double OverHead Cam, you now get a Single Overhead Cam unit. Going the SOHC path actually makes a lot of sense as you have a good balance of power and fuel consumption. If memory serves me well, SOHC gives better low end torque which is ideal for a city car. Many have a misconception that SOHC is low tech but consider horsepower remains the same and torque is increased by 2Nm compared to the previous DOHC FD2 engine, I'd imagine the Civic would be rather springy off the line when I do get to test drive one.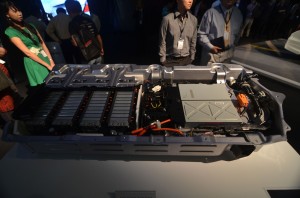 If Hybrid is your thing, then the 1.5 litre Civic Hybrid may just your answer to the perfect C segment car. The Hybrid has a 1.5litre SOHC i-VTEC+IMA engine, giving you 110PS @ 5,500rpm and 172Nm @ 1,000 – 3,500rpm. With the full torque available at such a low rpm, it should feel more responsive compared to its other siblings but expect some of its performance to be somewhat compromised as the transmission is CVT. The good thing is the new Civic Hybrid uses Lithium Ion battery which has greater charge capacity compared to NiMH (29% lighter and 35% more efficient).
In case you're interested, here's the dyno charts for all 3 variants versus their predecessors:-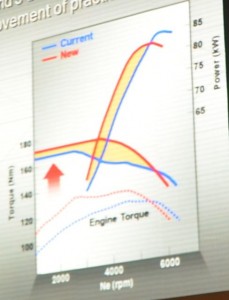 Hybrid 1.5L+IMA.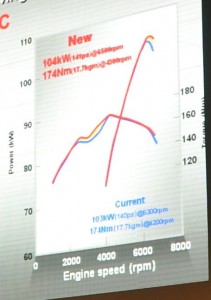 1.8litre SOHC i-VTEC.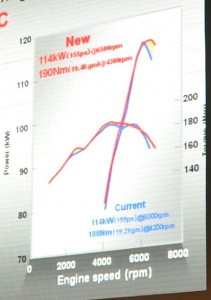 2.0litre SOHC i-VTEC.
Ride and Handling.
Nothing new in this department as the new Civic still features MacPherson struts for the front and independent double wishbone for the rear …. which is good as the 8th Gen has amply demonstrated its more than capable ride characteristics. Without going for a thorough test drive, I cannot say if the new Civic is as bumpy as the old but looking at the way things are, it should not be that different. More to report on this later
Cabin Convenience
Now this is where the new Civic could have done better. Here's a picture of the 8th Gen dashboard: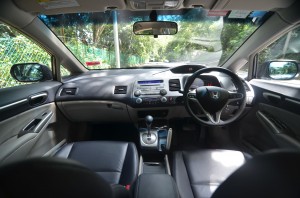 And here's the 9th Gen Civic dashboard:-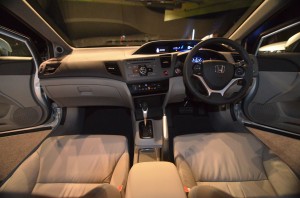 Please pardon the rather dark image. Any contrast in terms of brightness between the 2 pictures are unintentional.
At any rate, we could see that Honda has simplified the layout of the dashboard. While simplification and doing some tidy up is good, it has an unfortunate side effect. When you have less buttons to see and press, what do you do? You see and press the dashboard material … which is made of hard plastics. But the biggest problem, I feel about the dashboard is its asymmetric design. You see, we human measure beauty by how symmetrical things are. What's on the left must be reflected on the right … from selecting a life partner to finding the perfect car, such appearances matter to us on a fundamental level.
The new Civic's dashboard tries so hard to be functional (and it is) that it forgot to look pretty. To me, the most glaring asymmetry is the left center air conditioning vent and the center head unit. The gap of space is pretty obvious. If you look at the 8th Gen, you can see that although the center HU is angled towards the driver for better ergonomics (as is the new Civic), the number and position of the buttons are as where they should be. Sadly for the 9th Gen, the difference in level of the left and right side of the dashboard further underscores the lack of grace. But that's just me and that's my only gripe about the car.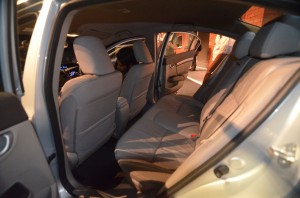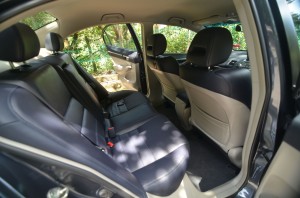 Both generation's rear seats still look rather accommodating and kudos to Honda for creating as much (if not more) space despite losing 30mm in wheelbase. The lack of rear air conditioning vents is still a sore point.
I mentioned 1 gripe … I was wrong … I have 2 actually. The other issue I have with the 9th Gen is the shortened boot space. Take a look at the following pictures:-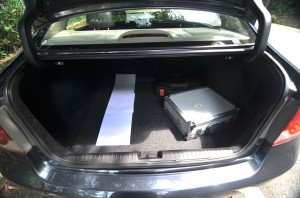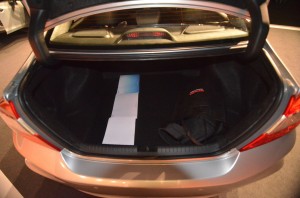 Without a measuring tape, I did the next best thing in trying to determine the boot size. It is indeed shorter in the 9th Gen vs the 8th but only by a small margin. Worse still was the Hybrid which I only managed to lay 2 and a half pieces of A4 from the rear of the rear seats to the opening of the boot.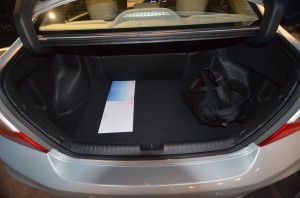 You can still fit a golf bag inside though so like I said, it's ok if you take the car as it is and don't compare.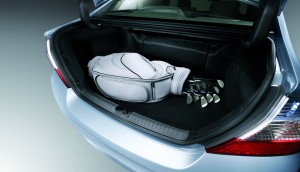 There are a few areas where the 9th Gen is better than the 8th Gen and one of it is the i-MID (Intelligent-Multi Information Display). Aside from the fact that it can't stream your home's CCTV to the car, you do get other useful information such as drive information, audio information and vehicle warning messages. You can even customize it with your own pet dog wallpaper and the displayed information is all controlled from the steering wheel.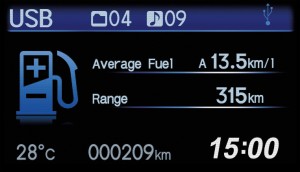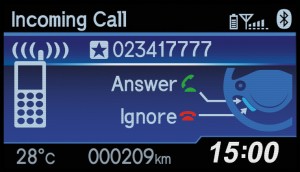 Also great is that the 2.o now comes with Keyless Entry and Push Start button. I guess we can expect to see the Accord to be similarly updated soon.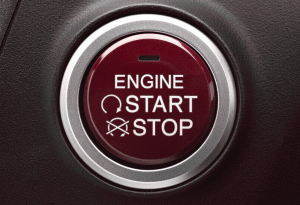 If you go for the Navi variant, you can find the Answer/Drop calls here on the steering.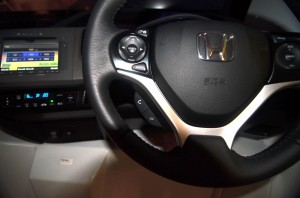 And you'll also get a reverse camera and satellite navigation.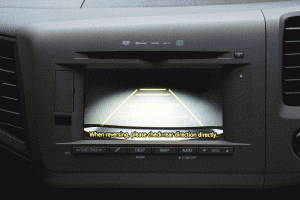 What you won't find in the 8th Gen but present in the 9th is this little green button: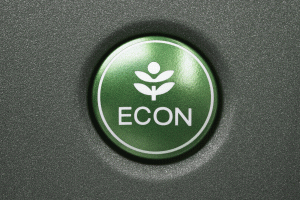 Excellent fuel efficiency is always high on the list of priorities for a C segment buyer. As such, Honda recognizes and supports the buyer by having a color changing speed display, drive by wire system, an auto transmission shift mapping that focuses on fuel economy and alters the air-conditioning programming. Yup, do your bit for Mother Nature by pressing this button often. Quell your inner speed demon.
Specifications:
Honda Civic 1.8S
Exterior:
Front fog lights
Halogen headlights
Glass printed antenna
Body color door outer handle
Interior:
Fabric upholstery
3 Spoke leather steering wheel
Tilt & telescopic steering wheel
Intermittent variable wiper
Power window (Up/Down-Auto) – Driver only
Multiplex Meter
5″ Intelligent-Multi Information Display with color
Single CD Audio Compatible with WMA+MP3/iPod/USB
Audio USB & Aux Jack
6 speakers
Front Center console with armrest
Rear seat armrest with cup holder
Rear adjustable headrest
Control:
Remote Entry + Trunk release
Jack knife-style key
Steering wheel switch audio & i-MID Control
ECON button
Power adjustable door mirrors
Power retractable door mirrors
Auto climate control Air Conditioning
Safety & Security:
Dual Front SRS airbags
Rear side & center headrests
ABS
Vehicle Stability Assist (VSA)
Advanced Compatibility Engineering (ACE) Body
Rear Seatbelt 3-point ELR x 3
Rear Seat ISO Fix
Security Alarm System with Immobiliser
Ultrasonic sensor
4 corner reverse sensor
Honda Civic 2.0S
In addition to the 1.8S unless specified otherwise
Exterior:
HID headlights instead of halogen
Auto levelling headlights
Side mirror with turning light
Chrome door outer handle
Interior
Leather upholstery instead of fabric
8 way Driver Power Seat
Smart Entry with Push Start Button
Paddle shift control
Steering wheel switch cruise control
Safety
Side airbags with Occupant Position Detection System (OPDS) – total of 4 airbags
2.0S Navi
In addition to the 2.0S unless specified otherwise
6.1″ Navigation Touch Screen (DVD, VCD, DIVx + Reverse Camera)
Bluetooth audio with hands-free telephone system (HFT)
Steering wheel switch hands-free telephony (HFT) Control
And compared to other C segment contenders, here's how the new Civic stands: (click to access sharper image)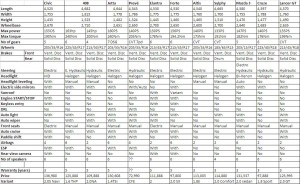 Maintenance costing and ownership
The 9th Generation Civic can be yours for the following prices:-
1.8S – RM115,980 OTR inclusive of insurance
2.0S – RM131,980 OTR inclusive of insurance
2.0S Navi – RM136,980 OTR inclusive of insurance
The key selling point though is it's maintenance schedule. For the first time in Malaysia for Honda, the new Civic has the following attractive servicing package:-
5 year warranty with unlimited mileage
5 year warranty with unlimited mileage for IMA battery for the Civic Hybrid
Extension of preventive maintenance interval from 5,000km to 10,000km
Free labour service up to 6 visits for every alternate paid service until 100,000km
Terms and conditions apply, of course …. but according to Honda, the T&Cs remain the same with what's already standing so not an issue. Honda is doing this because it is responding more actively to feedback from its customers which I think is excellent.
As for the maintenance costing, it can be found in Honda's main website. Please visit here: http://www.honda.com.my/model/overview/civic/
And here for the Hybrid: http://www.honda.com.my/model/overview/civic_hybrid/
Look under Accessories -> Maintenance -> Civic 1.8 (2012 YM) and Civic 2.0 (2012 YM)
So in the end, is the 9th generation Honda Civic worth buying? That's for you to decide …. the Civic name itself is already a very attractive proposition. As for the rest, well, why don't go for a test drive and decide for yourself. One thing I do know for certain ….. the 8th Gen 2nd hand value will still be high despite the existence of the 9th Gen
A special thanks to Rebecca Saw of www.rebeccasaw.com for allowing me to represent her to this event. It was certainly an eye opener for me in seeing how Honda does launch events.