In addition to my obsession for Nasi Kerabu, I enjoy our beloved national dish nasi lemak too, though not as much since it lacked vegetables!
A particular variation that I love is the chinese-style nasi lemak.
In Penang we could get them at the wet markets easily enough and my favourite is at Pulau Tikus market – (1) Jin Hoe Cafe and (2) another by a lady near the famous ban chang kuih stall. I've been patronising her stall since I was a teen because I grew up in Pulau Tikus.
The "chinese" version that I'm talking about is with sambal belacan and proteins are typically egg, assam fried fish or prawns. Sometimes we get the thick rich Nyonya type of chicken curry (totally different from the Malay style) but not often.
In KL I missed such Chinese style nasi lemak.
Though I've been diligently on the hunt for Chinese-style nasi lemak, so far the ones I've found are not with sambal belacan though a good consolation would be that such Chinese-style nasi lemak stalls would offer chicken or pork curry.
Unfortunately for me Taiping Boy is pork-free. I did however, enjoy the chicken kapitan and the cockles.
Fresh and juicy though they leaned towards small to medium in size, these were sweet and slightly spicy.
The chicken was cooked just right; moist and soft and bathed in its delicious curry rich of spices and chilli.
The rice on its own was mild in coconut milk so heaping on the sambal helped. As expected the sambal is on the sweet side though it did leave a lingering burn as I ate more of it.
This plate was RM11 – RM4 for chicken and RM3 for the cockles. I added a fried egg too.
A specialty is their Nyonya Achar (Penang style) but I didn't order that since I make my own achar. I also skipped on their sambal hae bee (dried shrimps) since I was alone and didn't wish to waste food by over-ordering. The lady at the stall was really friendly and told me to come try their kambing curry on weekends. Other than the chicken curry, their fried chicken is popular too.
Taiping Boy Nasi Lemak is available at a few coffeeshops in the Klang Valley as food comes from a central kitchen. The outlet I was at was the Damansara Kim Restoran Kim Wah.
Overall I enjoyed the nasi lemak. On my next visit, I'm aiming for the combo of kambing curry, achar and sambal hae bee – everything that I didn't managed to try this round!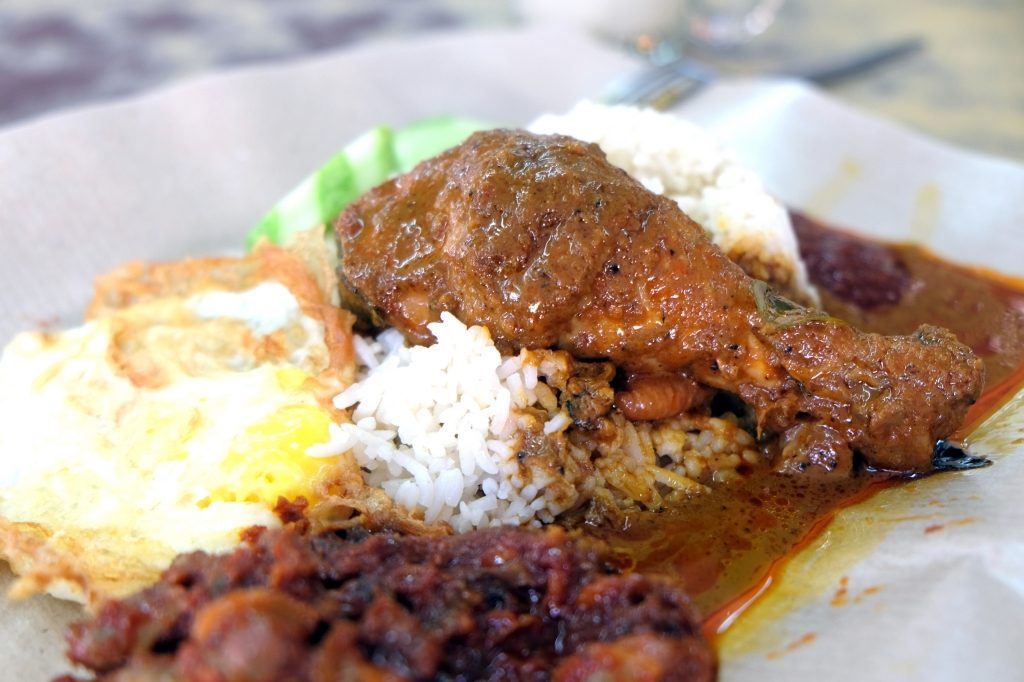 Taiping Boy Nasi Lemak:
Hours: Daily 7am to lunch (until finish).
1. Restoran Golden Kim Wah
Jalan SS20/10, Damansara Kim, PJ
2. Kedai Kopi dan Makanan Chun Heong
12, Lorong Ara Kiri
Lucky Garden, Bangsar, KL
3. Restoran Kam Heong
8, Jalan Tengah, PJ New Town, PJ
4. Restaurant Woh
Jalan Cempaka SD12/2, Bandar Sri Damansara, KL