Another international celebrity chef is in Malaysia thanks to Asian Food Channel!
Host of SUGAR, one of my favourite desserts cook shows, ANNA OLSON was standing, mixing, baking & joking barely 5 feet away from me just last Thursday. (Thank you Cheryl for the opportunity). 😉
Anna Olson excludes charm & is absolutely entertaining in the spotlight. Her clear intonated English (no heavy accent) made the session a breeze to follow & she generously shares baking tips as she rapidly mixes, beat, explains and joke with the media in the room throughout the entire 2 hours session.
Pic credited to FatBoyBakes.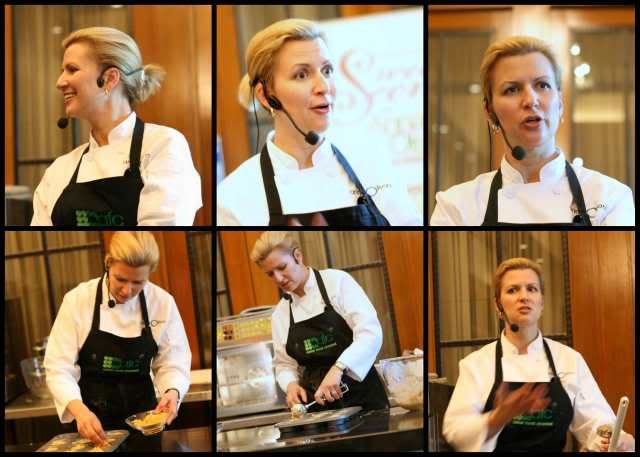 Anna's demo session showcased 3 recipes, of which each highlighted key ingredients from her beloved home country, Canada.
Pic credited to FatBoyBakes.
As we all know, Canada is famous for maple syrup; and hence the recipe for Maple Walnut Ice Cream.
Raisin Butter Tart, (with maple syrup as one of the ingredients) is apparently a popular Canadian dessert as well.
Apples are featured heavily in their desserts too, as Canadians has access to apples (due to the seasonal change) 6 months out of a year. Anyhow, no matter whom you are; American or Canadian or Malaysian, most of us love a good slice of hot apple pie no?
Here Anna incorporated a healthier version of the apple muffin by using whole wheat flour & vegetable oil versus butter. She added cheese for the sweet & salty taste combo that she claims the Canadians love..
Pic credited to FatBoyBakes.
Anna Olson – No celebrity airs & is as incredibly engaging on TV and in real life.
Her super sweet Raisin Butter Tart.
Maple Walnut Ice Cream.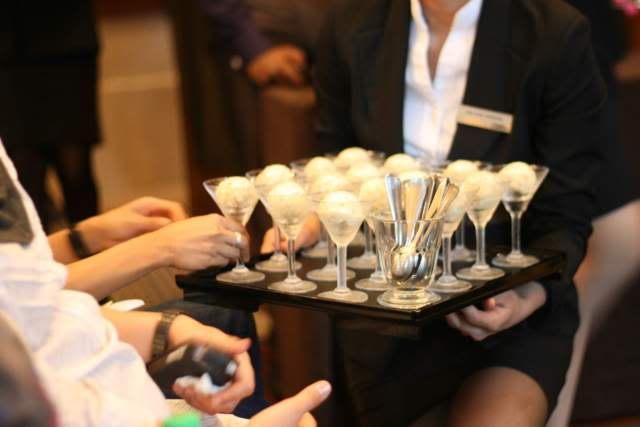 You can catch Anna Olson's live in person too! Her cooking cum lunch sessions are OPEN TO THE PUBLIC, at Le Meridien KL, on 27 & 28th of November, 11-3pm, with lunch & FREE FLOW MUMM CHAMPAGNE, at RM330++ per head. Check it out HERE.
And lastly, let me share with you Anna's recipe for her Maple Walnut Ice Cream!