After my visit to Sri Lankan Cafe at Gasing PJ area, I've noted two more Sri Lankan food outlets in my to-try -list.
The opportunity to visit Yarl came about during an assignment by The Malay Mail. Part of my job requires me to scout for eateries near Tun Sambathan Monorail so as I was walking around the area I stumbled upon Yarl's.
Since it was in my to-try-list for some time, I was understandably eager to dine here.
My first visit was however, not particularly impressive.
I had the lunch items and while I love the vegetables and the chicken, the mutton was quite hard and chewy. When one of the staff inquired about my meal, I took the opportunity to feedback about the mutton. I was informed that that's the way the recipe is.
BELOW: My lunch – RM13.00.
I then inquired about the rows of dishes on display – are these all Sri Lankan or South Indian?
I was assured that all the dishes are Sri Lankan cuisine, save for 2 vegetables.
Still, my meal at Sri Lankan Cafe lingered in my mind, and this wasn't what I expected.
Anyhow, my Sri Lankan aka Jaffna Tamil cuisine isn't extensive so I wouldn't know.
But I remembered what I had enjoyed from my previous Sri Lankan meal, which are puttu, apam and kotthu.
Theepan, the owner assured me that they serve all that of course, but only after 3:30pm daily.
And thus I got 2 adventurous friends to come along for Sunday tea, promising them a fiery and unique Jaffna Tamil experience.
And it didn't disappoint.
I finally got my wobbly, crispy-edge apam which I didn't care to share.
My friends sweat buckets as they tuck into "roti", Sri Lankan rolls and fried kotthu. The Sri Lankan tea and the Masala Tea were downed and we had to order more iced water to subdue our burning tongues.
The "roti" is wrapped up in a pratha-like skin (the guy who served us insisted that it is a different recipe from roti canai and seem agitated when I call it roti-canai) and patrons can choose between mutton or chicken.
All 3 of these snacks are stuffed with potatoes and different meat and are generally spicy as hell.
A fat samosa goes for RM2.00 while the roti is is RM3.00 each (mutton or chicken). The roll is RM1.50 (vegetarian), RM2.00 or RM2.50 for mutton, chicken or sardine.
The freshly made and piping hot puttu was spongy and delicious with the onion gravy and side of coconut sambal. The spicy, salty and moist coconut sambal is prepared by frying fresh grated coconut with onions, dried chillies and curry leaves
It was interesting to watch it being made and I almost wanted to ask if I could buy one of the contraptions.
A metal vessel that is specially designed is used to steam the puttu. It consisted of two parts.
The bottom section is bowl shaped and holds boiling water. The upper section is cylindrical in shape and contains the puttu (rice flour).
A circular metal piece with holes in it is placed at the bottom of the vessel to prevent the puttu from falling into the water vessel. This piece also allows steam to pass through it and steam the puttu.
Puttu: RM2.50. 
Plain apam is RM2.00 while the egg apam is RM3.00.
Mutton kothu – RM10.00.
This was spicy but tasty. Pieces of dough (similar to the ones wrapping the 'roti') were fried with spices, vegetables, onions, egg and mutton chunks.

I enjoyed the tea time offerings more than the rice dishes at Yarl.
In fact, I'm very likely to visit again soon. This time I intend to order the egg apam and I'm not sharing!
But really, the food isn't bad by any measure.
It just that I enjoyed the kotthu, puttu and apam more.
For lunch and dinner, you can opt for the Indian par-boiled rice or the standard white rice.
Over lunch, I learnt that Yarl was previously just a shack opposite the Petronas station on Jalan Tun Sambathan 3.
The shack fed happy patrons for 5 years before the opening of the current brick and mortar outlet. This shop is merely 2 years old as of 2017.
Yarl's current business is good as it had garnered a loyal following over the years. Brickfields may be dotted with South Indian or Chettinad restaurants in every 10 metres, but Yarl's Sri Lankan food and snacks are still one of its kind.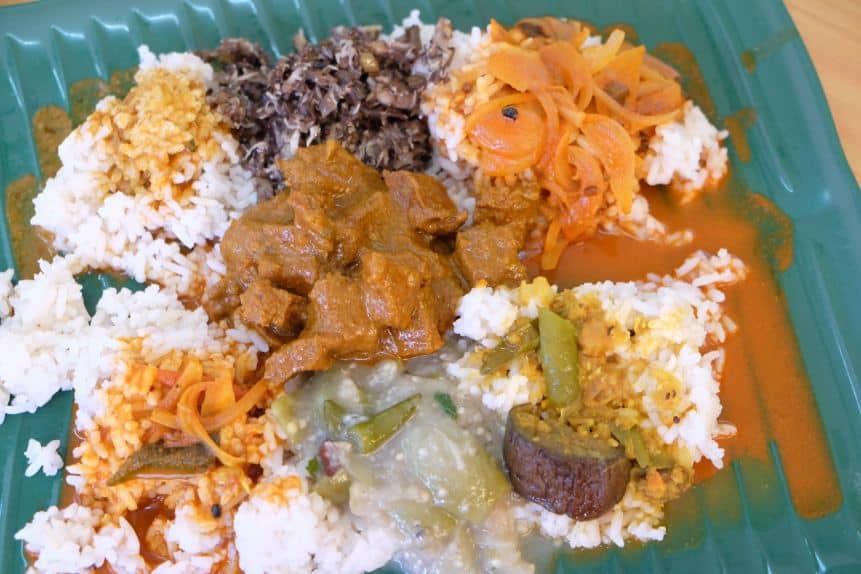 ---
LOCATION: 
---
Restorant Yarl
50, Jalan Padang Belia, Brickfields,
50470 Kuala Lumpur, Malaysia
CONTACT: +60 16-272 4009
Hours: 7am – 10pm
CLOSE: MONDAY
---
Other Sri Lankan restaurants in KL/PJ:
---
1. Aliyaa – Damansara
2. Restoran Yarl – Brickfields
3. Rasai Machan (Authentically Sri Lankan)
Ridzuan Condominium, Jalan PJS 10/11A SUNWAY.