Is it too early to be featuring Ramadan buffets for the buka puasa month of June 2015?
NEVER!
Especially so when it comes to a great buffet (great spread, delicious food, attentive service) like the one offered by Sime Darby Convention Centre.
The Ramadan season will be upon us on the 19th of June.
For Sime Darby Convention Centre, the kitchen team is already ready, the rotating menu set, the location and dining arrangements confirmed and tickets for the buka puasa spread are being snapped up as we speak.
The prices are incredible. There's so much good food to savour for RM69 nett.
Yes, you read right. RM69 nett.
Book in the month of April to enjoy this deal. Book in the month of May for the price of RM79 nett.
Any later bookings are charged at original price of RM120 nett, which by all means still decent for a buffet of this magnitude.
So, I hear you ask; "What exactly would I be served for this buffet?"
Well, here we go. They say pictures tell a thousand words.
And what you see below are just one of the 5-6 rotating menus for this buffet. However, the favourites of roast lamb, rotis, biryani, ikan bakar are most likely an everyday affair.
I prefer my lamb plain or with some mushroom gravy. On some days, just mint.
But you can opt to have the lamb with black pepper sauce, saffron rice and roti arab if you wish.
Lamb Shank.
Remember, this is a buffet.
Can you imagine unlimited quantities of this? 🙂
More meat.
This is a must-try; the Oxtail Soup. Why?
Because I said so!
It may look spicy here but it's not. Well, at least it wasn't to me. The gravy was absolutely delicious and the meat so soft.
I savoured the tasty meat and all its surrounding gelatinous parts and licked the bones clean.
Help yourself to as many bowls as you like, they serve it in a large wok here, kept heated to maintain its warmth.
Fans of curry fish head would find many heads in a wok too.
As well as HUMONGOUS bones in this pot, which renders a deep flavoured, hearty broth.
This is the Sup Tulang "Gear Box".
The buffet here focused primarily on Malay and traditional fare with a bit of dim sum, sizzling claypot, Hainanese Chicken Rice and Roasted Peking duck thrown in.
The must-haves at any buka puasa occasion are the lemang, roti, grilled meats, kebabs, fried noodles and satay, all of which was in abundance here and adeptly cooked.
The main hot food served that day were Nasi Kerabu (Kelantan), nasi briyani, ikan bakar, Patin Masak Tempoyak (Pahang), Rendang Tok (Perak), ayam golek (Kelantan), sotong sambal (Selangor), Rendang Udang Galah (Negeri Sembilan), Botok-Botok Siakap (Johor).
I appreciate that a dish or two from each state in our country were made available for the guests to sample.
Nasi Kerabu, my favourite Kelantanese dish.
Even the little known Sarawakian dish Ayam Pansuh (chicken cooked in bamboo) were given due highlight.
Mee Bandung, another personal favourite.
Which would you pick? White or black? 🙂
Petaling Chinatown corner.
Such big prawns. And in unlimited quantities!
This would be a great addition to the earlier mee bandung.
The Western selections: Grilled sausages, fish and chips, lasagna.
DESSERTS!
Both western and local sweet delicacies are available to satisfy everyone's palate.
I love DIY ais kacang for that means I can load up on my bowl!
More, more , more please. 🙂
Too bad they do not have cut fruits and ice cream because I usually add those into my ais kacang.
The pretty fruits table, which groaned under the sheer weight of the fruits.
Appearance-wise it looked impressive, but I would like to suggest that some of them to be cut ready for consumption, especially the watermelon and papayas.
Other drinks to quench your thirst – sugarcane, dates, corn and soymilk.
Oh, don't miss out on the Nescafe or Teh Tarik.
They are kept warm in this cool, solid drink dispensers. Can I have one at home please?
The ice blended drinks were good too, refreshing and not too sweet. Take your pick from Hazelnut Coffee or Chocolate.
I was looking for ice cream to pair with the Apple, Banana or Blueberry Crumble (yes, there were 3 crumbles offered, talk about choices) and found them only in the deep-fried form.
There were also a type of traditional Malay pancake which some of us may not be familiar with; the lempeng.
I had these once or twice in my life and realized that there were a few versions; with coconut milk, with bananas, etc. Basically it is pancakes which can be eaten with savoury or sweet ingredients.
A tray of freshly baked bread and butter pudding also beckoned, though I was too stuffed to give in.
Well, you would be stuffed too, if you were as greedy as me with the Pulut and Durian.
It was pungent, rich, thick and absolutely challenging to stop at one bowl if you are as crazy about durians as I am!
I have pretty much covered the main food that could be expected to be served at Sime Darby Convention Centre Ramadan buka puasa buffet, and the below are the rest of it.
Mak Odah Cucur has a whole table of freshly fried "cucurs", stuffed with prawns, anchovies or vegetables. Then golden fried bananas, potatoes and cempedak as well as keropok lekul promised fresh, crispy, sweet/savoury flavours in the mouth.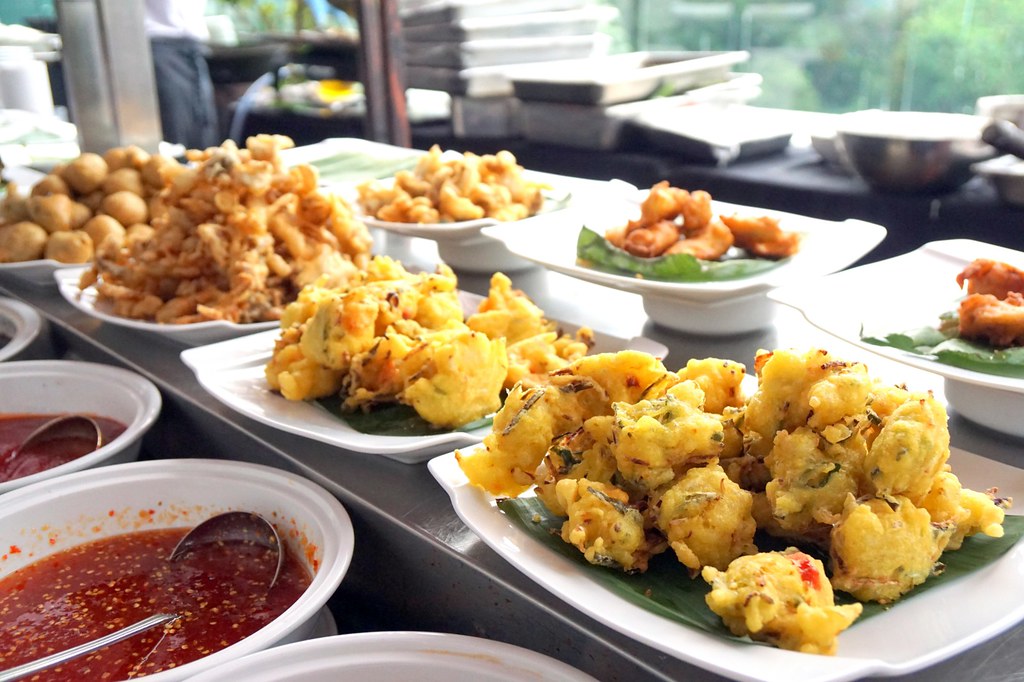 From the Chinese food selection, I find Ah Keong's Hainan Chicken Rice, Roasted Peking Duck and a small selection of dim sum not too bad.
Appetisers includes breads, sandwiches with your choice of fillings and spreads as well as Malay salads.
For those who enjoy breaking fast in the comforts of their own home, there will also be ready-to-go dishes made available from 3pm – 5pm daily throughout the Ramadan period.
Do contact the number provided at the end of the post.
Meanwhile, special banquet banqueting packages for Ramadan Buka Puasa are available for private group dining. You can book and have your buka puasa gathering in private rooms and dishes served in individual portions on the table.
For Hari Raya Open House, the Outside Catering services could just be the ideal partner.
Otherwise, the buffet seating arrangements are at the Roof Garden of SDCC. If you step outside to the balcony you will be rewarded with beautiful views of the golf course.
The dining area is fully air-conditioned of course.
Entertainment is inclusive.
For reservations call/email Halia at +603 2089 3799/[email protected] OR enquiries at 2080 3688/[email protected].
Sime Darby Convention Centre,
1A, Jalan Bukit Kiara 1
60000 KL, Malaysia.