I'm grateful for good friends like Hsieh Lynn who tipped me off about this place.
If I have passed by Rivalee's Cafe on my own and took a glance, I would have never stepped in. I mean, it is a couture house, and now it serves food?
The first impression formed in my mind would be 'Some known designer who decided to dabble in food and naturally the food would be as costly as his designs. He would have a team of kitchen staff to handle the food."
But when a recommendation came from Hsieh Lynn, a trustworthy fellow Penang charbor who has known me since young, I had reckoned that this place is worth checking out.
I grew up in Pulau Tikus and whenever I'm back to my hometown (which is not often) I tend to hang around Pulau Tikus.
I will hit all my usual breakfast spots and go around greeting my aunties and uncles who has cooked and fed me since young with their delicious food.
When all that is done, I'll be like "Hmm.. anything new to check out?".
As usual I'll be curious yet filled with trepidation as experience had proven time and time again that newer food outlets in Malaysia as a whole is 70% disappointing.
Many years ago Bangkok Lane was where the old Hainanese uncle sells his Hainanese satay every Tuesday and Saturday.
Bangkok Lane was where the famous mee goreng is (still is), but my regular choice of food is neither the famous Bangkok Lane Hokkien Mee nor the mee goreng, but the economy rice stall manned by an uncle.
My standard order was rice, stewed cabbage, pork chop or assam fish.
Oh, I do miss the uncle and his simple cooking.
Today, Bangkok Lane offers boutique accommodations, salons and at one end is a charming couture house where fashion designer Richard Rivalee works on designing beautiful gowns.
After Hsieh Lynn tip-off, I googled for more information and I liked what I read.
"My new cafe is just a hobby. I love to cook and my customers love my cooking. They are the ones who keep insisting that I open a cafe so that they can taste my cooking. I will not give up designing to go into the F&B business. For one thing, it is not as lucrative as designing."
Ah, this doesn't sound like another designer dabbling in food for profits. And really, don't you just love a person who tells things as it is?
We need more frank unpretentious people like that.
And as it turns out, the food was similarly unpretentious on top of being absolutely delicious and satisfying.
Having done my homework I knew what is offered here and I've decided on what I'll to try.
I convinced my KL friend to join me so we can order at least 2 mains to begin with, which as it turns out, we did.
Richard has kept the menu simple and focused.
I said focused because from what I've read it is obvious that Richard has a clear goal in mind for the direction of his cafe.
A few tried and tested recipes that are regularly available as well as some specials on certain days – it keep things straightforward (for the kitchen team) and set expectations (diners know what to expect) right.
As an example, after dining here, if anyone were to ask me "What should I order at Richard Rivalee's cafe?",
I'll reply – "There are 4 main items available, I would recommend the Nasi Ulam as it is superb and difficult to get anywhere else."
On the whole, the prices are fair; taking into consideration the variety of food on each main, the portions as well as the location and ambiance.
---
Nasi Ulam with Otak-otak. RM16.90.
---
There is no denying the appeal of nasi ulam.
Each chew rewards you with varying textures plus wonderful bursts from aromatic herbs, all in all an enjoyable gastronomical experience few other dishes in the world can replicate.
In fact, as much as I enjoy Nasi Kerabu from the east coast, I find it pale in comparison to the more complex flavours of our Nyonya Nasi Ulam.
As someone who sells Nasi Ulam myself (see our Hunger Box Nasi Ulam HERE), I have had high expectations but Richard's version didn't disappoint!
The accompanying spicy otak-otak and fiery sambal added flavour (particularly heat) to the dish.
Th crunch factor came from the refreshing salad and the crispy anchovies.
---
Blue Rice (RM17.90).
---
Our second choice was the Blue Rice (RM17.90).
This was both turf and surf as it came with a fried fish as well as a whole piece of chicken thigh in a separate bowl of green curry.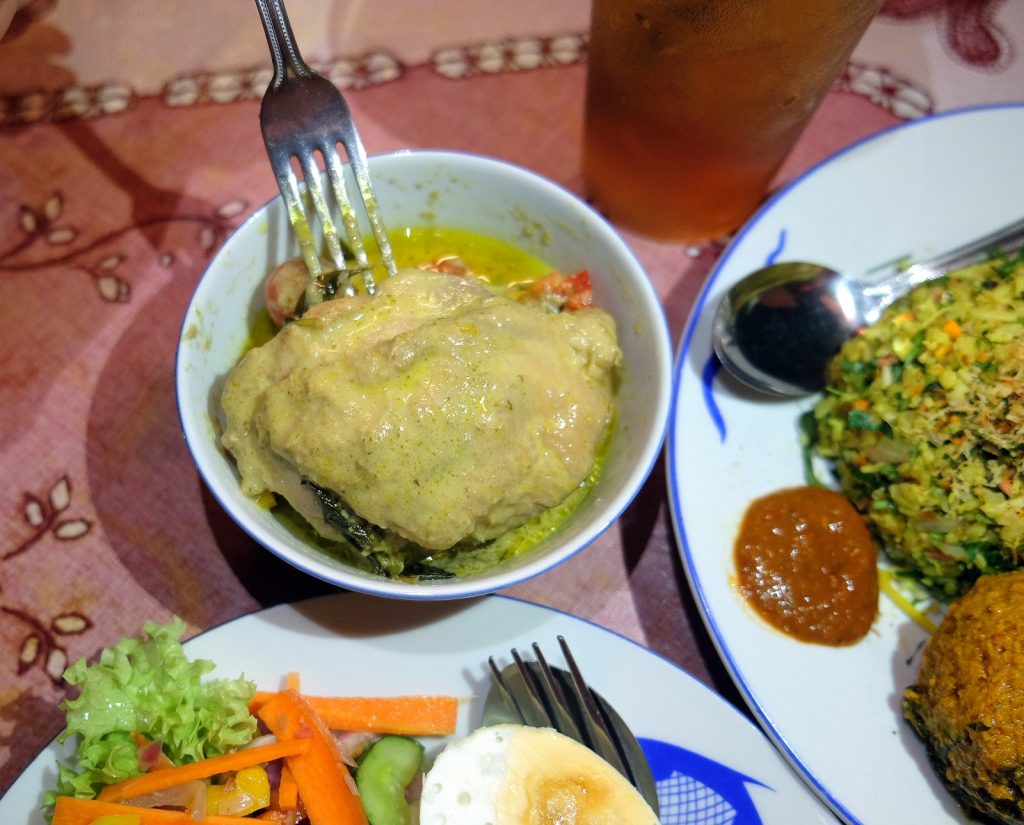 Not bad at all, I had thought, for that means for one price I get both fish and chicken, rice, salad, superb sambal (I can't gush enough about the sambal) and half a salted egg.
The bowl of green curry may look small but hidden under the chicken was copious amount of capsicums, tomatoes and pea size eggplants. It was rich, creamy, as flavourful and delicious as an authentic Thai green curry should be.
There was a group lunch booking on the day of our visit so these were served for the group.
A good thing for me since I managed to snap some shots prior to my own lunch. And yes, Richard accepts group bookings at his cafe.
However, do note that the interiors are a bit dim (horrible for photos!) and the tables close together.
Food is good, but during busy hours it is best not to linger as the limited seatings meant fast table turnovers.
The entrance is cooling and pretty thanks to the foliage and water feature. Sadly food is not served outside else it would have been nice to enjoy Richard's delicious food in the garden.
I can't wait to be back to try his rendition of Siam Laksa as I've read somewhere that it is the same version as the laksa stall in Swee Kong opposite the police station.
I remembered that insanely good laksa – creamy, rich, spicy and sour.
I'm keeping fervent hope that it is the same!
There is only one dessert on the menu and it is the soft, chewy steamed sago kuih (RM6).
Coated in thick, fragrant gula melaka, this is worth an order. It is advisable to share as this sago kuih can be filling.
Rivalee's Cafe
12, Bangkok Lane, George Town, Penang
Time: 12pm-3pm (Monday-Thursday)
Dinner: 6pm onwards.
11am-11pm (Friday-Sunday)
Closed on Mondays.
CONTACT: I googled in vain for a contact as well as there are none in other online sites or blogs. There isn't a FB page either.
I do have Richard's contact but I'm not sure if it wise to post it publicly here. Anyhow, do send me a message on my FB page (fb.com/RebeccaSawBlog) and I'll share it with you.