Everland Resort is a theme park in Yongin, a city in Gyeonggi-do province, South Korea, an approximately 2 hours by land travel from Seoul city.
It's advisable to arrive early (by 10am) as there are so many attractions and some of these have very long queues so it is not possible to explore every single one of them unless you're early into the park and the last to leave!
The park is divided into five zones that have their own distinct themes: Zoo-Topia, European Adventure, Global Fair, Magic Land, American Adventure. This made it easier for visitors to decide their path for the day.
Go for Zoo-topia if you're up for a trip through the wild world of animals.
Magic Land transports you to the land of imagination and is the playground for all things 'abracadabra'.
The K-Pop Hologram which plays the first ever hologram concert at Everland is at the Global Fair which is an international market of shopping outlets.
The American Adventure and European Adventure are more my kind of thing. Both offers thrilling, hair raising rides, exhilarating roller coasters and mind-blowing stimulations.
Fret not if you're overwhelmed as each visitor would get an Everland guide brochure and there are explanations and maps detailed out within its pages.
Take your pick – Thrilling? Family? Date?
The notorious T-Express; the world's steepest WOODEN roller coaster ride is in the European Adventure and was the most important feature of Everland for me. The wait was just as notoriously tedious, but Q-pass helped so we didn't have to queue for hours.
Instead we just had to be at the entrance for the ride at the time stated on the Q-pass. But once inside, we still had to wait for about 30 mins or so to get on the ride.
This is a very good video by Bryan and because he took a GoPro with him on the T-Express we got footage of the incredible ride! 🙂
These are the images I captured while queuing to get on the T-Express. The queue was long but it moves so it wasn't so bad. Just keep yourself occupied by sticking your face into your phone (which is what everyone was doing anyways).
The sight of the T-Express. Majestic! 🙂
The entire structure is made out of WOOD. I felt my heart beat faster as I gazed up upon it.
The symmetry of lines and structure. What a beautiful beast! 🙂
Some of those waiting in line blanched visibly each time a car of screaming riders zapped pass but I felt my heart beat faster in excitement.  I couldn't wait for my turn!
And finally we are in. Each carriage sits 2 pax and we were told to keep our belongings in the lockers provided. So no camera for me from then onwards but like I mentioned before, Bryan bravely held on to his GoPro.
So yes, this is our epic expressions during the ride. It is absolutely heart-stopping and terrifying yet EXHILARATING at some parts; especially the almost 180 degrees drops and upside down turns.
But man, I LOVE IT! <3
I have sat in a few roller coasters in my life but this is the best so far for me!
After the T-Express we wanted to get on the next hair-raising ride; the Rolling X-Train roller coaster with 2 complete 360 degrees revolutions. Unfortunately we couldn't as we were running out of time and we weren't able to get Q-Pass for both as Everland is REALLY HUGE.
Walking from one section to another is a feat itself. And though we had maps we still got lost along the way while we were looking for our preferred rides.
Anyhow, we got on a camel ride (cos I haven't rode a camel before!) at the Zoo-topia. This ride is chargable – it was about 3,000 won if my memory serves me right.
If camels are not your thing you can always ride a pony!
It was a good exercise just walking around Everland. We took videos, photos and played and laughed and enjoyed the festive surroundings. It is a theme park after all.
I really like these reproductions of castles from France, Middle Eastern countries, Spain, India, and Russia. Besides being visually captivating, the various architectural styles invite visitors into the culture and history of other nations, such as the Ancient and Medieval Periods of Europe.
It was a beautiful autumn day. The temperature was a chilly 18 degress and the sun peeked out from the clouds sometimes. The red gold leaves were so pretty and there are plenty of greenery around the park.
At some areas there's even a travelator which comes in handy for long distances!
We went around and took pictures of the rides, the people and the pretty set-up of each attraction just so we could share it with you! So if you're ever in Korea, do make a trip to Everland to experience this for yourself alright? 🙂
The queues for some of the rides/scary are too long for me to wait else I would have gone on all of these!
We managed to catch a ride in the cable car though.
We saw many couples here; holding hands and spending time enjoying the attractions and rides. What a nice way to spend the day with someone you love. 🙂
The T-Express from afar.
The kids really had fun here.
There's kiosks selling drinks and food at every turn and corner so you do not need to worry that you'll starve. Beside these kiosks, there are nice big restaurants at each of the 5 major zones serving all kinds of cuisine from burgers to pork katsu curry to bulgogi to fried noodles.
Our lunch was at one of the restaurants in Global Fair – Venetia Restaurant. Food was pretty good!
The menu is expansive. We shared pizzas, bulgogi rice, pork cutlet, hamburg and baked rice. Be sure to budget about 20,000 won (RM60) per pax.
A visit to Everland Resort is a must not only for kids but for the young-at-heart too! One would definitely be enthralled with the colourful display of beautiful buildings, the variety of rides and attractions and the wonderful cheery ambiance here!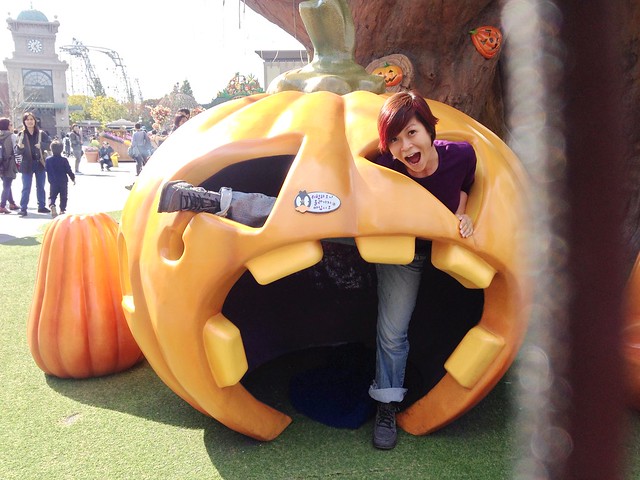 Thanks to KTO for the experience and the wonderful friends that I visited Everland with. It's truly the company that matters! 🙂
Everland Resort
199, Everland-ro, Pogok-eup, Cheoin-gu, Yongin-si, Gyeonggi-do.
Operating hours:
Weekdays 10:00-22:00 / Saturdays 10:00-20:00 / Sundays, public holidays 9:30-22:00
* Operating hours vary by month. Please click here to see the operating hours for the desired date of visit.
Everland coupons are 46,000 won (RM138) per pax for a one day pass. Extra charges still applies for coin-operated rides, rental, animal rides, and special exhibitions.
Check out the site for discount coupons for foreigners. These are 37,000 won each.
https://www.everland.com/web/multi/english/everland/everland_guide/ticket/Tickets_and_Coupons.html
*This wonderful experience was a part of our Asian On Air itinerary during our media familiarization trip organized by KTO Malaysia and Korean Air in October 2013.
Stay tuned as I'll update more on my trip over the next few weeks!
For other travel adventures, please swing by my travel page –> https://www.rebeccasaw.com/travel/!