Why indeed?
Here's 9 reasons why:
---
1. It is an "Instagrammable" Hotel.
---
This absolutely gorgeous property appears to worship light. Most areas are bathed in the warm and glow of sunlight and life.
Anyone with a love for good design would be captivated with the layout, the space, the intricate decor pieces and the overall surroundings aplomb with colour and motifs.
All of these and more metamorphose into impressive props or background for your picture-perfect holiday shots.
---
2. The incorporation of local culture (Peranakan) within its space.
---
Each Hotel Indigo infuses the culture, character and history of its location into its surroundings, amenities, food and beverage as well as decor.
It is a trait unique to Hotel Indigo property. No hotels in this chain are similar.
And for Hotel Indigo Katong Singapore, the architect and interior design team seems to have tackled their brief with glee.
The Peranakan ancestry's penchant for bright colours and intricate designs, like their fusion of culinary traditions, is a feast for the eyes as it is for the stomach.
We will get to the stomach part later, for now let's feast on colors and pretty things.
It's no secret I am a huge fan of bright hues and happy colours. Peranakan houses look exceptional in contrasting colours, even garish ones.
**Hotel Indigo is part of the InterContinental Hotels Group.
It is a renovated property and thus every inch is clean and neat. Unlike most old buildings (they have their charm of course) the 131-room hotel in East Coast Road carries no dust or creaky wooden boards of yesteryears.
Here, take your time and watch this video to appreciate the full distinctiveness of this boutique hotel.
---
VIDEO: My room and what to expect on your Hotel Indigo Katong Singapore stay
---
If you are lazy, watch the video above which detailed all my thoughts about my room and the surroundings within this property.
But if you are not a video kind of person, read on for my full impression.
---
3. The ROOM : Opulent, busy and eclectic.
---
First of all, the price for a night stay is reasonable for the experience and comforts of the hotel.
Not only it is unique, the room is a generous 30 sq metres and every object has a design or color on them.
A Singer sewing machine forms the base for the vanity counter and washbasin in the bathroom, which is also furnished with traditional items such as a spittoon.
Like shophouses, the rooms are deep, with the bath area at the back. Lighting is kept dim, but plenty of warm sunshine comes in through the ceiling to floor glass at the end of the room.
In place of a modern coffee table, a carrom board has been put in. The ubiquitous Nyonya red clogs made an appearance as a decorative piece.
Home-grown artist and illustrator Don Low was commissioned to create murals that feature Singapore street scenes such as hawkers selling dumplings and barbecuing pork slices and his work certainly gave each room an individualist element compared to if mere framed images were used.
A glass cabinet displays intricate glassware and stores the coffee, tea, complimentary and non-complimentary snacks.
The cock symbol on the cups, the white rabbit sweets and the tin mugs for washing at the washroom, all these evokes much nostalgia and charm!
***********************************************************************************************
Besides the room space, the wash area (bathroom so to speak) it's like some lavish grooming for the 'tai tai' (datin).
With tiles like these who needs carpets?
This would be the personal make up space for lady of the house.
Amenities:
Sliding door for privacy.
Even walking the corridors outside the room is a pleasant sight for the eyes. As you wait for your lift, admire the vivid images hung on the walls.
Attention to details is everything in this property. Even something as "elementary" as the carpets was given due thought.
I'll take this lantern pattern over the plain beige carpets anytime!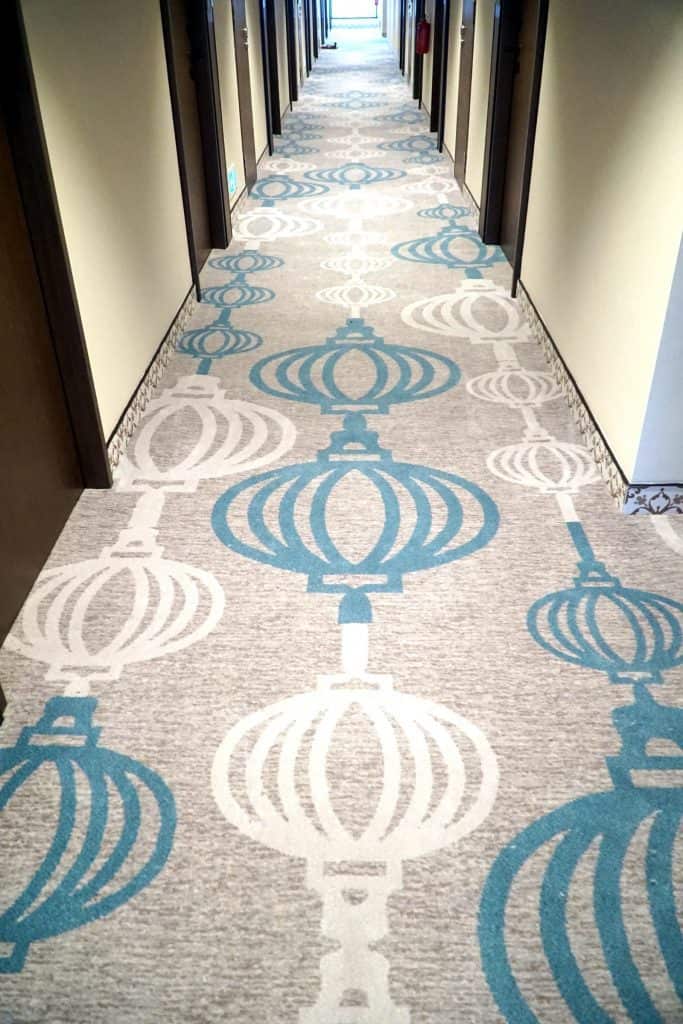 ---
4. Location, LOCATION, LOCATION. 
---
First and foremost, this property is right smack in the charming, colorful area of Joo Chiat and Katong.
As Singapore's first Heritage Town, this part of Singapore has long been an integral part of the nation's heritage and is now home to Singapore's first Hotel Indigo.
The heritage architecture and rows of traditional Peranakan eateries, colorful shophouses as well as generations old businesses would have charmed any cultural or history buffs and avid photographers.
Being of suburban nature, the both human and vehicle traffic isn't too unbearable, even on weekends.
The Peranakan culture is striving here and as you stroll the streets, expect to discover diverse and fascinating mix of architecture, history, cultural landmarks, delicious hawker food and traditional stores, all in all a making of an illuminative tour.
Secondly, if it is a holiday you're seeking, its location near the sea where the East Coast Park is offers great beach time and is suitable for jogs, cycling, yoga or windsurfing.
Otherwise you can opt to relax at Marina Cove where the biggest and most upscale McDonald's in Singapore is located, alongside many restaurants plus a large children playground.
By the beach, the divided jogging and cycling lanes are wide and long and the whole park is clean and safe.
BELOW: Free for the public – have a picnic, conduct yoga sessions, meditate, use the playground, have a BBQ maybe?
BELOW: The premium McDonald's in Singapore @ Marine Cove – unique menu, VR, shadow wall, gadget charging stations, WIFI, dessert bar, salad bar and healthy sandwiches.
There is something for everyone!
Last but not least, a few air-conditioned malls plus a Fairprice within walking distance of the hotel caters to the daily needs of the community.
However, if it is serious retail shopping that you need, Orchard is a mere 30 mins bus ride away or 20 minutes by taxi.
---
5. Delicious food!
---
The East Coast is a foodie destination for this island, particularly Joo Chiat and Katong.
The culinary choices are aplenty, ranging from cool cafes to bars to old-world coffeeshops selling the famous Katong 'laksa', 'kueh chang' (dumplings) and other Nyonya delicacies.
BELOW: I had the famous 5 Star Hainanese Chicken Rice as well as a carnivourous meal at Astons one night.
For a hawker fare that is a bit our of the ordinary, Alibabar The Hawker Bar (Katong) offers both local and international cuisine (plus beers!) for fair prices.
My pick – Garcons French Grill for the duck confit as well as poutine. The famous Yong Huat noodles was just overly greasy. 
Astons: 
Good value for money feast.
---
6. SERVICE
---
Service is impeccable.
The front liners are warm, knowledgable about the locality and was able to assist me on food, sports and shopping recommendations.
I had to head to town and was unfamiliar with the buses but my worries were allayed as they found out for me the exact bus I would need to hop on.
If you require a cab, it can be arranged as well.
My room was way too cold at first and they had the whole engineering team to monitor and make it comfortable again for me.
Yes, service was spot on.
---
7. LOBBY – check-in, service
---
Check in was all smiles, warm and efficient.
The Peranakan shophouse architecture are recognisable in the lobby – the tiles, the patterned walls and the batik print from sarong as well as porcelain wares and dark, wooden cabinets.
---
Pavillion –the surrounding space for recreation time other than your personal room – to sit, chill, where the business centre is, to enjoy your welcome latte
---
This "Mama Shop" in the hotel's Pavilion offers books by Singapore authors as well as international art and design books.
For some privacy, chill behind tall wooden screens that double as display shelves for Peranakan cups, teapots and jars. The "business centre" or rather, public computers for guests are here too.
---
8. Hotel food – behold Baba Chews!
---
The hotel's in-house restaurant is cheekily named Baba Chews. The name pays tribute to philanthropist Chew Joo Chiat, whom the neighbourhood is named after.
The restaurant is decked out with monochrome patterned tiles and unapologetically Peranakan in decor. It is housed in part of the former Joo Chiat Police Station, which was gazetted for conservation in 1993.
Guests can tuck into traditional and modern Peranakan dishes such as Ayam Buah Keluak Burger, Foie Gras Tau Kwa Pau, chilli crab cakes as well as a full dinner menu.
Late hours would see a crowd descending here for their innovative cocktails. One that particularly stood out for me was the Laksa Cocktail.
Keluak Burger with Achar (SGD18++) – delicious!
---
9. Recreation – GYM & POOL
---
The mark of a good hotel pool is its size. The view is a plus.
If it is the infinity design type that is all the rage now, then the brownie points racks up.
Hotel Indigo checks all the boxes above, giving city hotels with rooftop pools a run for their money.
This 25m-long infinity pool has a sweeping, breathtaking scenery of the Joo Chiat neighbourhood.
A 24-hour fitness centre would ensure all shiny, toned limbs of those fitness buffs remained in optimum condition.
As expected of a hotel of its brand positioning, there were drinks, complimentary towels and a solid set up for both machines and free weights in this room.
---
4. They mean BUSINESS too.
---
Just in case you think Hotel Indigo is about "resort life", let it be known that it's conference hall is popular for business meetings too.
Attendees will be served an assortment of pretty snacks besides other titbits as required.
Think about it, I bet your business associates would enjoy a fresh location for the much dreaded meetings.
Yup, a little mix of business and pleasure won't harm.
---
SUMMARY
---
The main draw is definitely its location as well as the flamboyant room, besides of course, its fair price point.
The rate is SGD171++ until 30th Sept 2016 so please do consider a stay at Hotel Indigo Singapore Katong if you are in Singapore.
I love this property and I love the neighbourhood.
Katong/Joo Chiat is perfect for locals and visitors to Singapore to experience the eastern side of Singapore.
Besides, exploring the streets is free, plus this precinct offers spectacular views, intriguing history and gastronomic trails of the rich hybrid of ethnic traditions that is the Peranakan.
From the room to the neighbourhood, a stay at Hotel Indigo Singapore Katong will leave guests feeling inspired, refreshed, and connected to the neighbourhood around them.
---
---
Public transportation:
---
There are no MRT stations within walking distance from the hotel but buses traverse this route frequently.
The nearest bus stop is just a 250 meters walk, located right in front of Roxy Square.
From Orchard:
Bus 14 or 36 drops you off opposite Roxy Square which is across the road from Holiday Inn Express Singapore Katong. The journey is about 35 minutes.
The nearest MRT is Paya Lebar. Take bus 134, 135 and 43 to get to Holiday Inn Express Singapore Katong.
I took Bus 10/14 to go to Sofitel So which is at Lau Pa Sat. It cost me < SGD2.50 for a 30 mins ride.
---
---
HOTEL INFO: 
---
Nearby: 112 Katong mall, Singapore Expo, Changi Business Park and Singapore Sports Hub.
15-minute drive from Changi Airport.
Nearest train station: CC8 Dakota MRT Station / EW8 Paya Lebar MRT Station. You would need to take a cab as it is about 2 km from Paya Lebar Square.
Indigo Katong
86 E Coast Rd,
Singapore 428788.
Tel: +65 9027 4197
FB: https://www.facebook.com/hotelindigosingapore/