This cream is good. Seriously.
BELOW: 118ml (RM180.00 – current sale price RM125.00). 59ml (great for travel use) (RM79.90).
I don't usually review skincare or beauty products since the ones I used are very specific.
The battle with my dry skin has been an on-going struggle. While I have almost perfect facial skin, my arms and legs suffer from a bit of leathery texture and are definitely dry to touch.
What I did with this cream is that I apply right after my shower. It does leaves a slightly greasy and sticky after-feel so for those who doesn't like that it would be advisable to use it only at night for its full moisturizing benefits.
Since I was pretty desperate to get my skin as hydrated as possible, I apply this twice daily.
I keep a small tub in my bag as well for emergency uses.
Sometimes I had to shower and change quickly to rush off for a meeting or I'll like to reapply during the day when I know I'll be spending a lot of hours in an air-conditioned environment. 🙂
The cream is easy to apply and has no fragrance whatsoever as it is an all-natural, all-purpose cream with no added chemical, perfume or enhancers.
Made up of 6 of the best Mother's Nature ingredients – Olive Oil ( Olea Europaea oil), Beeswax, Honey, Pollen, Royal Jelly and Propolis Extract, the Egyptian Magic Cream reportedly has multitude uses; from the obvious use of being a trusted moisturizing cream to treating burns and fungal infection and even as a lip balm, make up remover and for kids, it is recommended by some mothers to be effective for diaper rash too.
Karen, my colleague uses it as a shaving cream for her daily shave. It works as an after-shave cream too, plus it could provide relief from razor bumps if you happened to be careless.
It is my trusted daily cream for now and I apply a small amount during each application as a little goes a long away. Even after 2 months of use, the 118ml jar I've got is barely half tub.
My legs are my worse areas. Scars from insect bites and accidents and generally drier skin than usual, the cream has helped to improve the overall situation a lot!
When I was in Bali I re-applied throughout the day as I was swimming, sunbathing and out and about for photoshoot in the sun for long hours. The only unfortunate point for this Egyptian Magic cream is that it is not a sunscreen.
Well, I guess if it is then there would have been added chemicals in it which then means it won't be 100% natural anymore.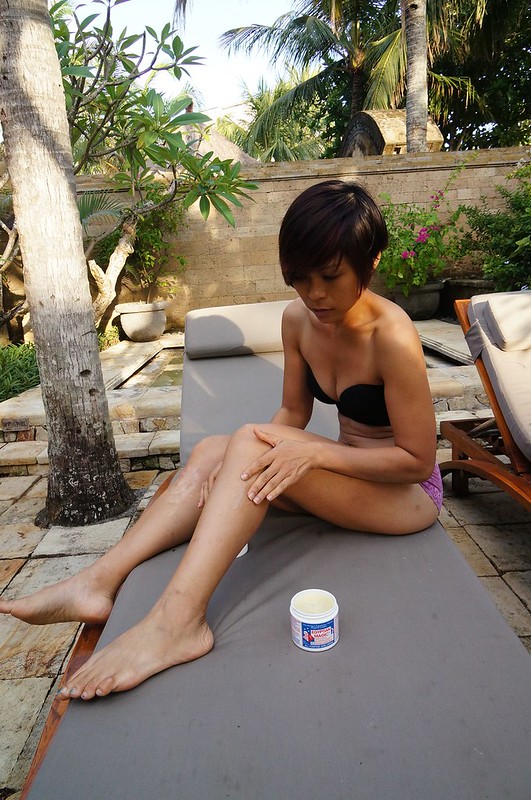 Since I don't use make up I haven't tested it as an effective make-up remover but I'll try that soon enough since I have some make up lessons at Konji International (https://www.facebook.com/KonjiInternational) next month!
I'll keep you guys updated alright?
Last but not least, other than my usual hair oil, I dab a bit of this at the ends of my hair for some moisture. It is supposedly good for split ends too.
I trust I'll see further improvement from the continuous use of this cream over the next 2 months. The results of use from the first 2 months has been really promising and I'm really happy! 🙂
I have stopped using my other moisturizing lotion (FRESH for day use) and the Soap & Glory Body Butter (night use) ever since I started applying the Egyptian Magic Creams so I can sincerely assure you that the improvements on my skin are from the use of ONE product only.
I don't believe in immediate results for skincare and hence this review after 2 months.
Period of use: 6th May 2014 – end June 2014 (about 2 months period).
Effectiveness: GREAT! 🙂
For more information and to order: http://www.nattacosme.com/073-Brand/137-egyptianmagic/Egyptian-Magic-All-Purpose-Skin-Cream-59ml
www.nattacosme.com
https://www.facebook.com/NattaCosme