It's the Raya season. The balik kampung season. The feasting season.
The spread at JP Teres was reflective of the season. Traditional and local cuisine lined the buffet counters, satays are being fanned vigorously to expedite cooking for the hungry diners and at the Chicken Rice station the Chef barely had time to look up from chopping up one fowl after another.
The Chicken Rice here is pretty legendary. I was told that it is the most ordered item at JP Teres.
On a weekday lunch, all the executives around the KLCC area flocked here for their chicken rice fix.
Since I have always been meaning to try it, but wasn't willing to subject myself to the torture of the KL mad traffic on a weekday, I took the opportunity to sample it that evening during the buffet.
My verdict?
Hmm.. great texture for the chicken; smooth and tender. But I found the rice to be overly oily. The overall fragrance is present, while the chilli could be punchier.
Anyways, there's always the roast lamb to for those who need more than just fowl.
The noodle station offers Yong Tau Foo, Laksa, Curry and Wonton noodles, just great for to pacify the palate after the rich curries and heavy Malay dishes.
The Indian and Malay sections fared better than the Chinese station.
We particularly enjoyed the appetisers of raw salads; all very well flavoured and tossed with a myriad of fragrant herbs.
2 desserts was outstanding that night; one simply because it triggers childhood memories (the ice potong) and another is a Grand Hyatt specialty – the Pandan Chiffon Cake with Drizzle of Pandan Coconut Jam served with Grand Hyatt's soft serve ice cream and mangoes. 
The ice-potong – so simple but almost non-existent now.
I saw both adults and kids enjoying them that evening, though the adults were too shy for photography. I guess no one wants to be featured on my blog sucking on an ice stick. 😀
This was the perfect ending to dinner!
Other desserts includes the traditional Malay kuih, bread and butter puddings, chendol, ais kacang, cakes, tarts and the Grand Hyata pineapple tarts.
Just to give you a better idea of the spread, here's one of the rotating menu for the daily Balik Kampung buffet for this month: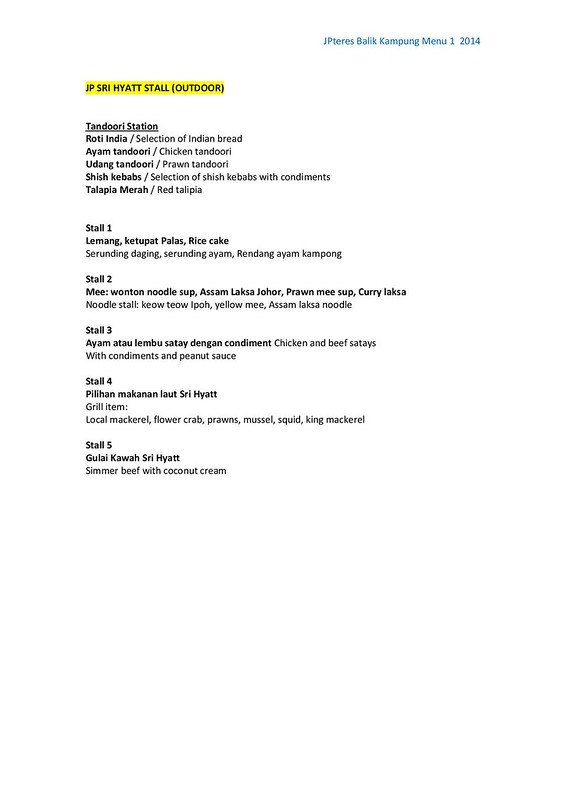 Price: RM148++ (Adult), RM74++ (Child)
Date: 30th June – 25th July 2014
Time: 7 – 10pm
For reservations or enquiries, please call +603 21821234 ext 2333 or email [email protected].
JP Teres,
Grand Hyatt Kuala Lumpur
12 Jalan Pinang
50450, Kuala Lumpur, Malaysia