Dim sum. Dim sum. Dim sum.
I could eat dim sum everyday, starting with good fishballs followed by har kau and siew mai.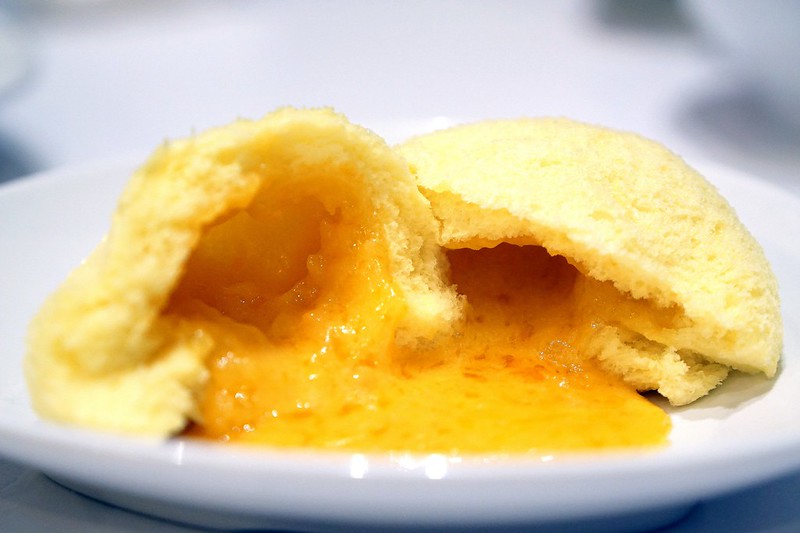 I prefer my dim sum non-greasy and well presented hence I never liked the ones available at small coffee shops.
Dim sum in hotels and restaurants like The Ming Room, Grand Imperial, etc is admittedly more expensive but at least these places serve my dim sum the way I like it; premium ingredients, adeptly made and freshly steamed/fried upon order.
1 Utama Shopping Centre is like my second home.
So I can safely say that I have dined in perhaps 90% of the F & B outlets here. However after a while it's back to Ichiro Sushi and Obahnmi, time and time again.
So when Sheng Kee Dessert opened its doors I was immediately curious to try the food. The name is really a misnomer, for Sheng Kee isn't a dessert house/cafe.
In fact this conceptual restaurant originated from Singapore and offers a wide selection of authentic Hong Kong styled dishes as well as desserts.
And I must mention; PORK as well.
It took them some time to settle down. My first visit was just a week after the opening and things were shaky.
A 2nd visit followed 2 weeks after and I could taste the gradual improvement.
The food sampled below was from my 3rd visit, where pictures turned out better (because I bought my camera along) and food was worth recommending.
Let's start with my favourite here.
Hey, Tim Ho Wan, move aside.
Sheng Kee's Snowy Char Siew Bun (RM 6.90) is better by comparison of both taste and price.
It was a bit sweet, but I bit into chunks of juicy, sweet, savoury BBQ char siew encrusted in a crusty and pillowy golden bun; I forgot about low carbs, low sugar diets and small portions.
And I discovered that I can actually finished 3 at one go! *shock!*
The same can be said for the Yolk Custard Bun (RM 6.90). The spurt of sweet and salty yolk lava imparts a rich, eggy flavor and sandy texture which is both decadent and tasty.
After the snowy char siew bun I decided another yolk custard bun won't be much harm to the foregone diet.
Salmon Skin with Pork Floss (RM 5.90).
This is addictive to those who loves crispy savoury snacks. The pork floss threw off any potential fishy-ness and the sweet plum sauce managed to bind all flavours together.
Looking for that perfect cinema snack? This is it. 😛
Braised Pork Belly with Mui Choy Rice (RM 13.90).
Braised flavourful pork with rice and salted vegetables; a simple satisfying dish that bought all the memories of grandma's cooking back.
My only request? More pork please!
SK Signature Combination Noodle (RM 16.90).
The noodles here is pretty alike the original HK wanton noodles where it is firm to bite and to some, could be described as al-dente or springy.
Unfortunately I personally dreaded such noodles. I like my noodles soft as a personal preference I avoid ordering noodles here.
My love here is the fat dumplings and sui kow. With big prawns and generous amount of pork meat, it hits my protein quota for the day nicely!
I love my Chinese sweet soups and the ones I tried here are satisfactory so far.
The Yuen Yang Paste (RM 6.90) – black sesame and Chinese almond soup is a all time classic and though I enjoyed it, it is still the dim sum and the dumplings here that draw me for revisits.
Still, the mango sago one isn't too bad and another that I have tried that came paired with coconut (or was it vanilla?) ice cream was worth recommending.
The dim sum options are not exhaustive, but covers the usual suspects of carrot cake, prawn dunplings, pork siew mai, some steamed buns and fried items.
It works for me as a quick meal and sometimes I don't really care for variety anyways.
Another reason to love Sheng Kee? They serve dim sum all-day long!
Now I can have dim sum for tea! 🙂
Hong Kong Sheng Kee Dessert
Lot LG311b, Lower Ground Floor, 1 Utama Shopping Centre PJ
Opens from 10am to 10pm daily
www.shengkeedessert.com/