West Lake Garden Chinese Restaurant at Sunway Resort Hotel & Spa unveils a new lunch-time a la carte dining experience, this time focusing on dim Sum and other home-style dishes. Diners can expect up to 100 varieties of dim sum all crafted by is the restaurant's Dim Sum Master Chef Low Kim Ong and his culinary team.
Take your pick off the Dim Sum push cart with favoured dumpling choices like Har Kow (Steamed Shrimp Dumpling), Siew Mai (Steamed Shrimp and Chicken Dumpling), fishballs, Loh Mai Kai (steamed glutinous rice), Crispy Fried Prawn Dumpling and other steamed, baked and deep-fried Dim Sum.
The live stations (which I thought was a fabulous idea) makes for good diversion from just eating and allows diners to move about a bit instead of just ordering off the menu. I went over to check out the row of displayed claypots and watched the cooks prepare some Teochew favourites.
Below: Even aunty was curious. 🙂
Steeped in tradition and heritage, Teochew cuisine can either be simple or elaborate.
Chef Low's team gives diners an interesting sampling of the spectrum with Yeong Sam Pou (Stuffed Chilli, Eggplant, Bean Curd or Lady's Finger), Teochew Duck, Lamb Kut Teh, Teochew Fish Ball, Mui Choy and Venison Rib with Chilli, Mixed Vegetable, and a slew of braised dishes encompassing Braised Rice Wine Chicken, Braised Beef Tendon with Radish, Braised Fresh Fungus with Minced Ginger, Braised Egg and Bean Curd in Soy Sauce, and Braised Teochew Chicken Feet.
I love the Yeong Sam Pou. The fish and meat paste was superbly tasty; balanced ratio of fish and meat and so fresh.
These tang hoon fishball dish arrived piping hot to the table and it was such a comfort dish. The soup was clear and light while the fishballs were soft and mild tasting. It was just so soothing. 🙂
The unique Lamb Kut Teh; recipe still under tweaking.
This Teochew menu is rotated daily with six (6) choices during weekdays and eight (8) to 12 selections over the weekend so diners have an array of dishes and cuisines to complement their Dim Sum experience at West Lake Garden.
Good idea isn't it? So much to choose from, so much to try and all in one venue. 🙂
I realized after sampling nearly 30 dim sum items that the steamed and fish based dim sum here are better suited to my tastebuds compared to the fried ones. I particularly favour the fish paste ones as both the teochew Yeong Sam Pou, the fried fishballs and the fishballs in the claypot tang hoon (glass noodles) that I sampled were all really good.
The carrot cake is fried upon order and nourishing double boiled soups are available too. On the day of my lunch, it was Old Cucumber Soup.
Chef Low's signature Dim Sum is the Tri-Colour Dumpling, a tasty shrimp dumpling in a translucent wrapper topped with chopped carrot, black Chinese fungus and coriander for a burst of taste and colour.
More varieties of the dim sum we sampled are as below. Another unique item on the menu is the Unagi Cheese Rolls.
I have had high praises for the mooncakes here and that's because the kitchen team makes really good paste. This lotus paste reminded me why the mooncakes here rocks. Smooth, fragrant and lightly sweeten, this was a darn good pau!
Fluffy casing for the Char Siew Pau (chicken version of course). Thumbs up for that. Still, 50% more meat would be ideal. Yes, I'm a greedy woman. 🙂
Both the fried and steamed prawn dumplings as below. The ones here are coated with a thin layer of flour/paste.
Steamed Carrot Cake with X.O. Sauce. In 34 years of experience as a Chef, Chef Low's speciality has always been Dim Sum, particularly the Hong Kong, Beijing and Chinese Emperor styles. The dim sum here are all prepared in-house, even the sauces.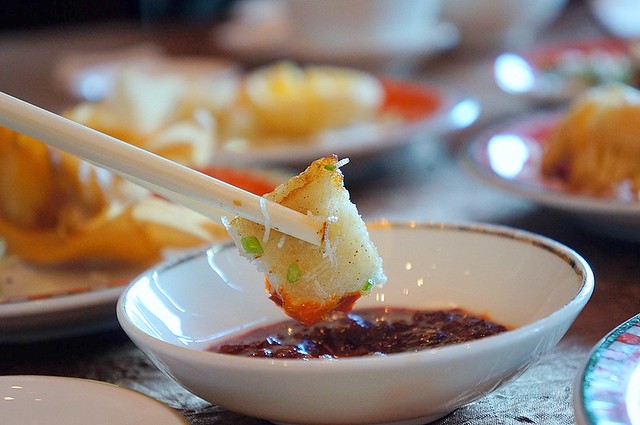 Chee cheong fun (rice rolls) with fillings like lobster meat or scallop, or Mui Choy (preserved mustard greens) and Chicken in savoury soy sauce are available too. We tried the lobster meat one (I think this is the only place that serves a lobster meat version?) and found the rolls generously plump with lobster meat though the skin could be silkier.
Rice and noodles buffs can order the Fried Hor Fun with Beef Slices, Fried Hon Kong Noodles with Seafood, Fried Sin Chew MeeHoon with Prawn, Steamed Rice with Chicken and MuiHeong Salted Fish, Nyonya Fried Rice as well as Seafood Fried Rice with Anchovies; all which we skipped since we couldn't possibly stomach more food in this one seating.
But there's always space for desserts of course!
In the dessert line-up are Red Bean with Sago, Sweet Potato with Ginseng, Mini Egg Tart and Mango Pudding, whereas the list of Tong Sui consists of Tong Sui with Aloe Vera, Dried Bean with Barley and Pak Kuo Tong Sui, White Fungus with Long Ngan Tong Sui and Boiled Tong Yuen with Ginger Pandan Tong Sui.
Besides being a Dim Sum Master Chef, Chef Low is also adept in making 'La Mien', the Chinese hand-pulled noodle.
"I am constantly challenging my skills by pulling together current recipes, exploring and injecting new inspirations to time-honoured offerings, as well as introducing latest Dim Sum varieties. I gather recipes and cooking techniques from watching cooking programmes on television and even travelling to China to collate and bring home new recipes. I enjoy incorporating various ingredients and flavours into my dishes, knowing that diners truly delight in the cuisine I painstakingly prepare for them," Chef Low says.
Well Chef, I hope to see you again soon and sample more of your 100 varieties dim sum. For now the record is just 30! 70 more to go! 🙂
West Lake Garden Chinese Restaurant
Lobby Level of Sunway Resort Hotel & Spa
Open for lunch from 12.00noon to 2.30pm on Mondays to Saturdays, for dinner from 6.30pm to 10.30pm daily
Brunch is from 10.00am to 2.30pm on Sundays and public holidays.
*Pork-free.
For reservations, call +60 3 7495 1888 or email [email protected].