In KL, cronuts are only attempted by Delectable by Su and Ben of the BIG Group (as far as I know) and for Su's, it was only available within the month of July. I was so busy that month I never made it to her shop in The Gardens.
Just 2 weeks back I was in Ipoh with Tourism Malaysia and I managed to sample Burp & Giggles' cronuts. As usual a disclaimer that I must make here is that I have not been to New York and I have certainly not tasted a "real" cronut made by the creator himself Chef Dominique Ansel. I have no way of knowing however whether the taste is even close to that of the much coveted original.


But I must say that out of 2 'cronuts' that I have tried; 2 from Burp and Giggles in Ipoh and 1 from Dessert Storm in Publika; my preference goes to the former.
At least the former had nice spongy insides with layers of flaky pastries that were very much less greasier compared to the "Klonut" at Dessert Storm, Publika.
Kaya Klonut- RM7 @ Dessert Storm, Publika.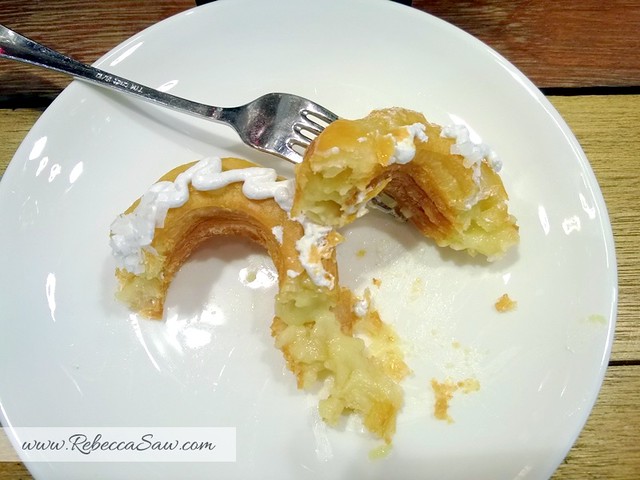 However an important point to note here us that the 'Klonut' from Dessert Storm, Publika is NOT meant to be like the original but an interpretation of the cronut. So in a way it was not meant to be directly similar.
Anyhow, even on its own and with no comparison with any other cronut wannabes, the 'Klonut' at Publika was hardly worth its price tag of RM7. In essence it was just an extremely greasy piece of pastry with barely any character, texture or taste.
Other flavours offered were peanut butter & caramel, kaya & coconut and Milo. The price is the same for any of the flavours.
Here's a cross section.
As you can see, it's really an oily piece of deep fried flaky pastry. Thank god for the kaya (coconut jam) which is the only saving grace of this very badly made pastry. I have never felt so cheated of RM7.
The KLonut is 2 bites at most, but it was so bad that I couldn't finish half. And because it was RM7, I decided not to waste it and doggy-bagged the other half. I shouldn't bothered really, for the other half ended up in the dustbin 3 days later. I just couldn't bring myself to eat it.
NOTE: Dessert Storm, B*wiched, Plan B Roaster, Bread and Shucked are all located within Ben's Independent Grocer.
PS: Mabel, the pastry chef here is a really nice girl. I'll probably hop in for her other desserts the next round. Do note that this review is purely about the Klonut and I have not tried the other desserts here at Dessert Storm.