It is my first visit to Dynasty Restaurant at Renaissance Kuala Lumpur Hotel and it certainly won't be my last.
Throughout the 8 course meal I was constantly hmm-ing and oooh-ing as I tucked hungrily into every dish.
Meeting Executive Sous Chef Kok Chee Kin was a surprise too.
I stopped stuffing my face just long enough to exclaim 'Wah so young one" followed by a whispered "Chef is cute hor.." to my dining partner that evening.
Seriously, Chef Kok possesses admirable PR skills. He jovially greeted everyone of us and took time to check on us from time to time. Armed with a wicked sense of humour, he never failed to elicit laughter from whichever table he was attending to.
But of course, it is his cooking prowess that we should concentrate on in this review.
So, as I was saying; I was impressed with Chef Kok, uh, I mean Chef Kok's creations.
An apt example would be this pork knuckle which was braised for a few days.
The result is a superbly tender and absolutely ravishing pork dish that had all of us chowing it down with gusto, fat, meat and all.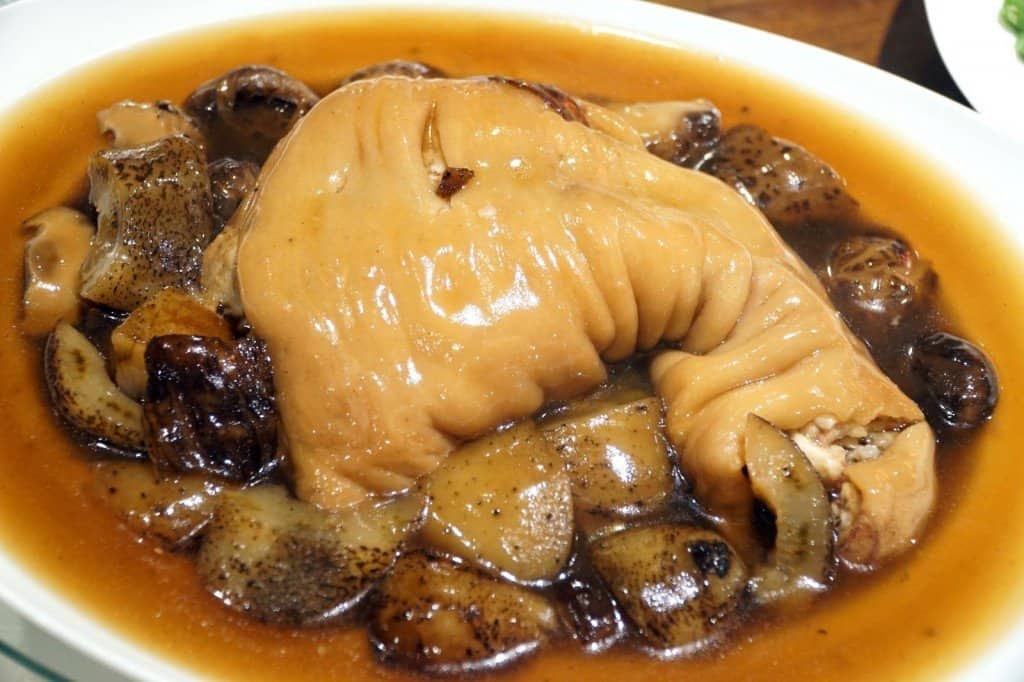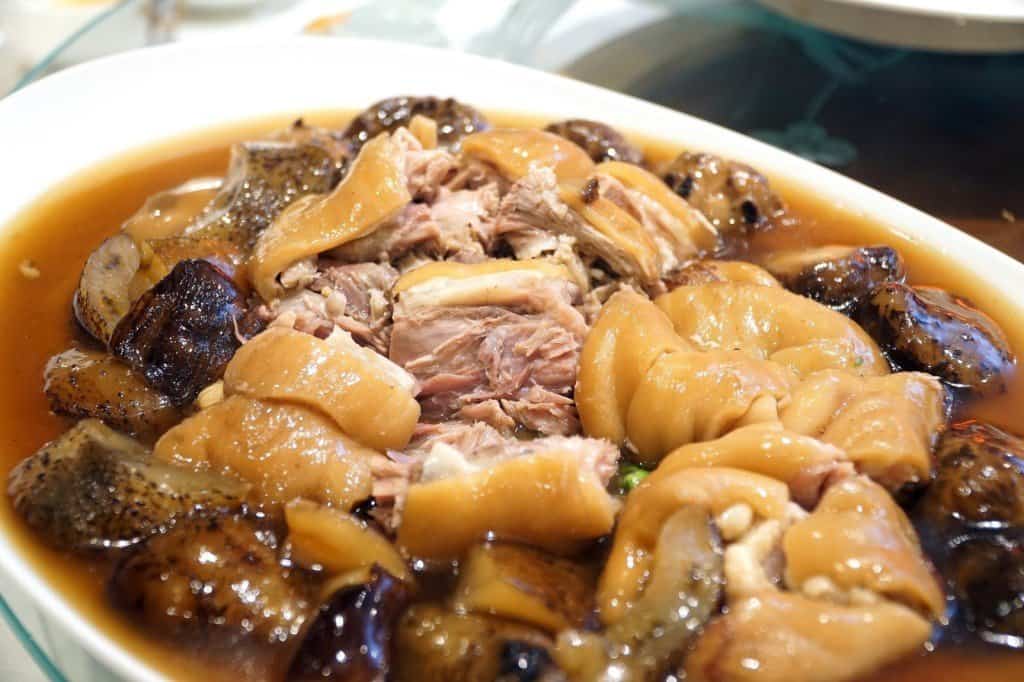 Understandably Chef remained tight-lipped on his recipes so I'll do my best to describe the dishes I sampled that night to you.
Based on the preview that evening, Dynasty Restaurant would be one of my top 3 recommended restaurants for their Chinese New Year festive menus this year.
I love how every dish we sampled that evening focused on the use of traditional ingredients while emphasizing on light and fresh flavors for healthy feasting.
We enjoyed the fruity yee sang but if you prefer the classic versions with fresh fish and all, do not fret as Dynasty Restaurant offers 6 types of Yee Sang which covers contemporary flavours as well as the traditional.
Select from Fruity Fiesta (1), Salmon (2), Salmon and Smoked Salmon (3), Lobster and Salmon (4), Mini Abalone and Salmon (5), and Three Treasure (6), all served accompanied with crunchy vegetables, crackers and condiments.
As per custom the soup was next; chockful of ingredients with all the goodness of the seafood extracted from hours of boiling.
I don't drink soups much but the soup course is one of my much-anticipated dish at any CNY festive dinners.
Chef Kok made simple greens tasty with simple preparation method which retains the original sweetness of the vegetables.
This deceptively plain looking plate of vegetables was a pleasure to consume though it was the least popular item because all of us were eyeing the meat dishes!
Since Dynasty is a non-halal Chinese restaurant, Chef Kok had deliberately injected pork everywhere, even in this traditional dried seafood and vegetable dish.
I'm not one to complain though. After all, generous cuts of tender pork belly underneath a more generous pile of dried oysters, sea cucumber and broccoli is NOT a cause for complaint, don't you agree?
The prawns though tasty, wasn't the sort of preparation that I prefer. But that's just a personal preference of course. As pictured here, the portion and size were more than sufficient for a table of 10.
Chef went on to explain that the waxed meat and the claypot rice are served separately for a reason.
Diners can opt to mix the waxed meat into the rice pot themselves, a way of enhancing the togetherness of the dining experience but if you prefer to sit back and have the Dynasty staff mix and portion out the dish for everyone; that can be arranged as well.
The best quality wax meats were imported for Dynasty's Claypot Waxed Meat Rice and the quality is apparent.
I love the "lap cheong" (the red ones below) and the liver sausages (black ones). The former wasn't too sweet while the latter has sufficient bitterish liver flavour. Both were not too fatty or overly salty.
Another of my top picks that evening was this variety platter, also known as the "Four Seasons".
The artsy fish centrepiece is inedible by the way, in case you're wondering.
You were, weren't you?
On this platter we have the moneybags; plump with minced meat and a unique fritter with the most unlikely pairing of ingredients but turned out to be rather tasty.
Have you tried combining salted egg yolk, sweet bananas and savoury fish paste?
Well, you should, because it works!
The other 2 variants were the scallops and asparagus basket and the crispy prawn and salted egg yolk dumplings.
Last but not least was nian gou (sticky rice cake) with fresh coconut, fruit tarts and a hot soy milk dessert, all in all wrapping up a decadent and satisfying meal.
Bear in mind that whatever showcased above are merely part and parcel of the 7 festive set menus suitable for 2 persons and groups of 5, 6 or 10 persons.
Patrons can look forward to festive feasts from Treasure Pot/ Poon Choi to luxurious Set Menus and Dim Sum selection as well as Claypot Waxed Meat Rice and the prosperity Yee Sang.
But of course, if you are booking for families, friends gathering and for business associates, then lavish them with a 9-course set menus of Happiness Set, Fortune Set and Longevity Set priced at RM1,598 nett, RM1,988 nett and RM2,888 nett respectively.
These set menus come with Yee Sang for diners to toss to their luck and good fortune.
The 7-course Prosperity Treasure Sets priced at RM838 nett and RM1,088 nett and appropriate for groups of 5.
This includes Salmon Yee Sang and a Prosperity Treasure Pot.
The 7-course Double Happiness Set is priced at RM428 nett is to be shared by 2 persons while the 8-course Chinese New Year Set for 6 persons is priced at RM988 nett.
Chinese New Year menu from Dynasty Restaurant (NON-HALAL), Renaissance Kuala Lumpur Hotel will be available from 18 January to 22 February 2016.
Hours:
Lunch: 12.00noon to 2.30pm
Dinner : 6.30pm to 10.30pm.
Dynasty Restaurant is located on the 1st Floor, Renaissance Kuala Lumpur Hotel – East Wing.
For restaurant reservations and to discover more, please call 03 2716 9388 or email [email protected].
Online reservations can be made at www.klrenaissance.com/dining.