The last I stepped into Grand Millennium for the buffet was 2 years ago.
Fortunately nothing much has changed and the spread is just as wide as I remembered.
It feels good to be back here for a feast. My habits has not changed either; and predictably I started piling my plate at my favourite sections – the Indian and the Japanese, savouring the fresh seafood, hot kebabs and sashimi.
But of course, for any Ramadan spread the real highlights are the authentic Malay delicacies.
This year's theme "Nikmati Juadah Balik Kampung" says it all. Fiery fresh sambals to accompany an assortment of ulam and perennial favourites such as Rendang Daging, Ayam Masak Merah, Kupang Petai Asam Pedas, Udang Masak Rendang Kerisik and the roast lamb plus juicy skewers of satay are just some of the 80 different dishes which will be showcased in 4 different rotating menus.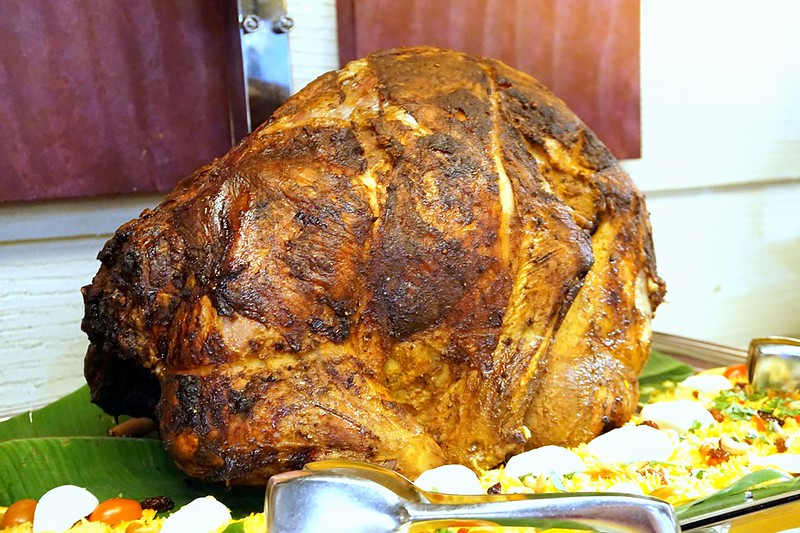 I attacked the large grilled fish with accompanying piquant sauce. Ah, always love a freshly grilled fish. 🙂
A big wok of fried delicacies – telur ikan (love this!), paru, quail (puyuh), crabs, prawns and calamari is another of the highlights on the overall spread. These are terribly addictive and certainly justified the cost of the buffet price.
I was here for a preview of the Ramadan buffet so we only managed to sample and take pictures of maybe 40% of the actual spread. I trust that the actual spread when it began on the 29th of June would be even more impressive!
Just to give you an idea of the food that would be served, you can refer to the attached menu below.
But of course I couldn't resist capturing some shots of the desserts here!
Guests of the buffet can look forward to an assorted of traditional and western sweets. One notable dessert here is the layer cakes which are available in plain, dates, DURIAN and pandan flavour.
I love the durian one!
For the convenience of all Muslim patrons, a surau is available on the third floor for guests who wish to perform their maghrib prayers.
The sumptuous buffet offerings will be available from 29 June – 28 July, 2014 from 7pm until 10pm daily.
Price: RM 108 ++ per person
Early Bird special at RM 86.40++ per person only for guest(s) who purchases prepaid Ramadan vouchers. To get your Ramadan vouchers contact: +60 3 2117 4163 / 4164 or email [email protected].
The Mill, 1st floor,
Grand Millennium Kuala Lumpur.